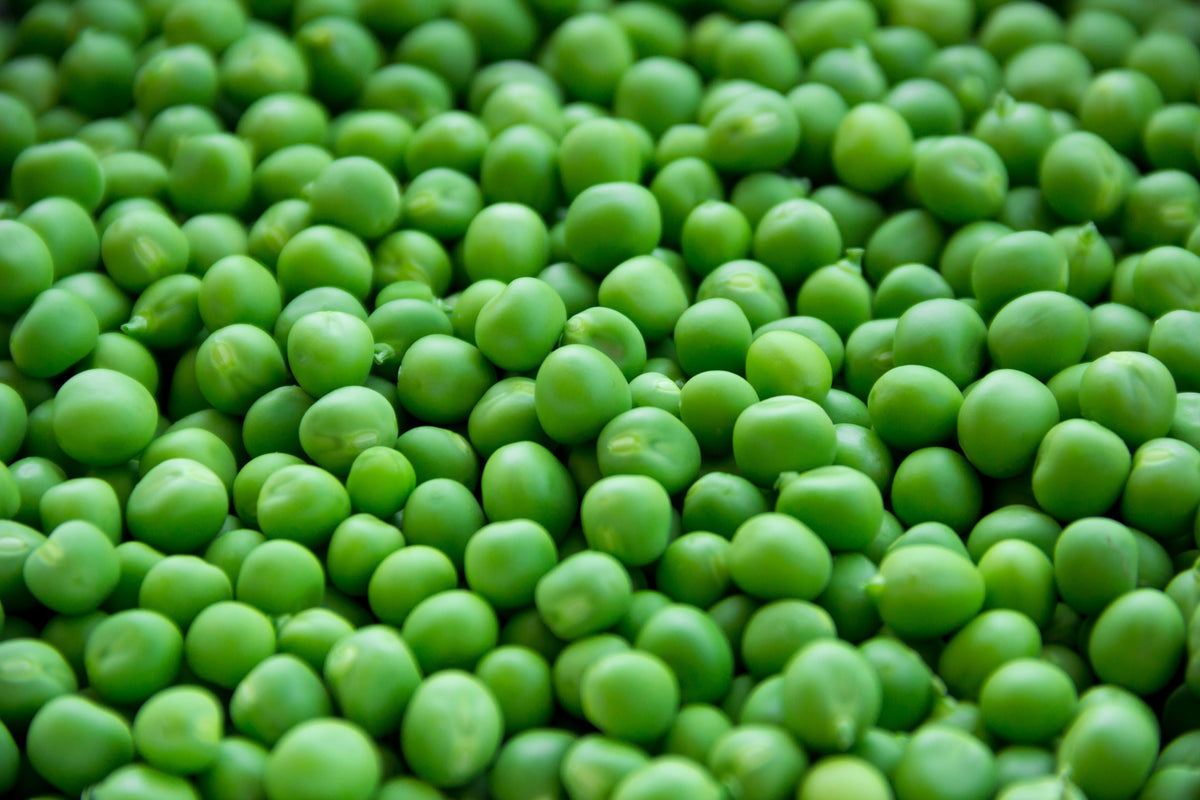 Peas
Following hot on the heels of the broad bean, the pea is next on the list of fresh summer pulses to arrive. If it weren't for potatoes, peas would probably be the UK's national vegetable, such is its popularity, served up on our plates all year round in its frozen, bagged form.
However, a frozen pea, as sweet as it might be, cannot be compared to a pea fresh out of the pod; if picked freshly from the garden we're talking about a completely different eating experience. Frozen peas all taste the same – sweet and well… sweet – whereas a pea fresh from the pod can have any number of flavour attributes. The point is something happens in the freezing that allows you never to be disappointed but, at the same time, never quite surprised. By the way, beware, a frozen pea cooks more quickly than a fresh pea from the pod.
If you manage to pod enough peas to make a worthwhile-sized portion. without eating more than you save, they can be prepared in lots of ways: why not try a pea purée (posh mushy peas), Potted peas, a chilled soup of peas and mint, peas in broth with Baby Gem lettuce, pea risotto, pea fritters, salad with peas, peas with pasta, peas added to curry…
And let's not forget the pea shoot, the tender tips of a growing plant that carry the same flavour as a fully grown pea, that can be used as a garnish or added to your salad bowl.
How to blanch vegetables
Blanching kills the enzymes that live on the outside of vegetables. It's an important technique for preparing vegetables for all sort of dishes, from those that are to be preserved to those that will feature in our composite salads.
Blanching should be done in your largest pot, as the more water you bring to the boil the less it will drop in temperature when vegetables are added. Add a good handful of salt; the water should taste like sea water. This will retain the colour of the vegetables and season them, too. Depending on the size and type of the vegetable, blanching should take between two and five minutes.
Once cooked, vegetables should be placed into an ice bath (a bowl of cold water with ice cubes) to stop the cooking process and keep the vegetable crisp.
Raspberries
Scotland is renowned for its raspberry growing and that is said to be due to the long, not too hot, summer days. Golden raspberries appear at the end of summer and into autumn. As with strawberries, raspberries should be enjoyed only in season; sun-ripening on the cane allows the natural sugars to form in the fruit. Look for varieties that please your taste buds and make a note of what they were for next time.
Raspberries can be used in baking and they make an excellent jam, alone or in a mixed jam with the best of all soft summer fruits.
Check out our Raspberry and Lemon Verbena Cordial recipe.
---