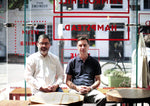 MEET NICK AND IAN
Back in 2004, two Hackney dwellers had an idea, they wanted to create a proper grocers, bringing the best quality food to the people of North London. Naming the company after their respective mothers, Melrose and Morgan was born.
What inspired you to start the business? 
In early 2000 we were spending our Saturday mornings at Borough Market, London. Here we found farmers and small-scale food producers from all over the UK, selling some of the finest produce we'd ever seen or tasted. Our visits soon became a highlight of the week, as we worked our way around discovering new sellers and new foods and watching the seasons come and go through the produce on display. This way of shopping for us was completely different to the chore of going to the supermarket. Our goal was a simple one: to source the very best the British Isles had to offer and sell it all under one roof, seven days a week. We wanted to created a modern grocer.
What do you love most about the business? 
Discovering new food producers who have excelled in creating something that exceeds expectations and then introducing their products to our customers and seeing their reaction.
We also love developing a new product or recipe for our customers. The whole creative process and hours of work that can go into producing what may end up being a very simple dish and then seeing the results of the process on the shelves or on the table and enjoyment it then brings.
What is your desert island dish?
A fish finger sandwich. We know it's basic but we make my own fish fingers using sustainable cod and fresh bread crumbs and serve in white bread with plenty of ketchup and a side of homemade slaw. It's a meal to feed the soul after a long day. 
What's your favourite Melrose and Morgan product and why?
Too many to list, but if we were forced to pick only one, it would be our Parmesan and Poppyseed Rounds – small bite sized, melt in the mouth savoury biscuits laden with Parmesan Regiano and a kick of cayenne to add an extra dimension. Make sure there's someone to share the packet with or else you may end up eating the whole lot!
Any tips or tricks you use when you're cooking at home?
We never run out of vinegar. Not just for dressings (and chips obviously) but we use it to build up flavour when cooking onions down for a risotto or casserole. There's also a trend now for drinking vinegars - we haven't tried them yet but we have them on our list!