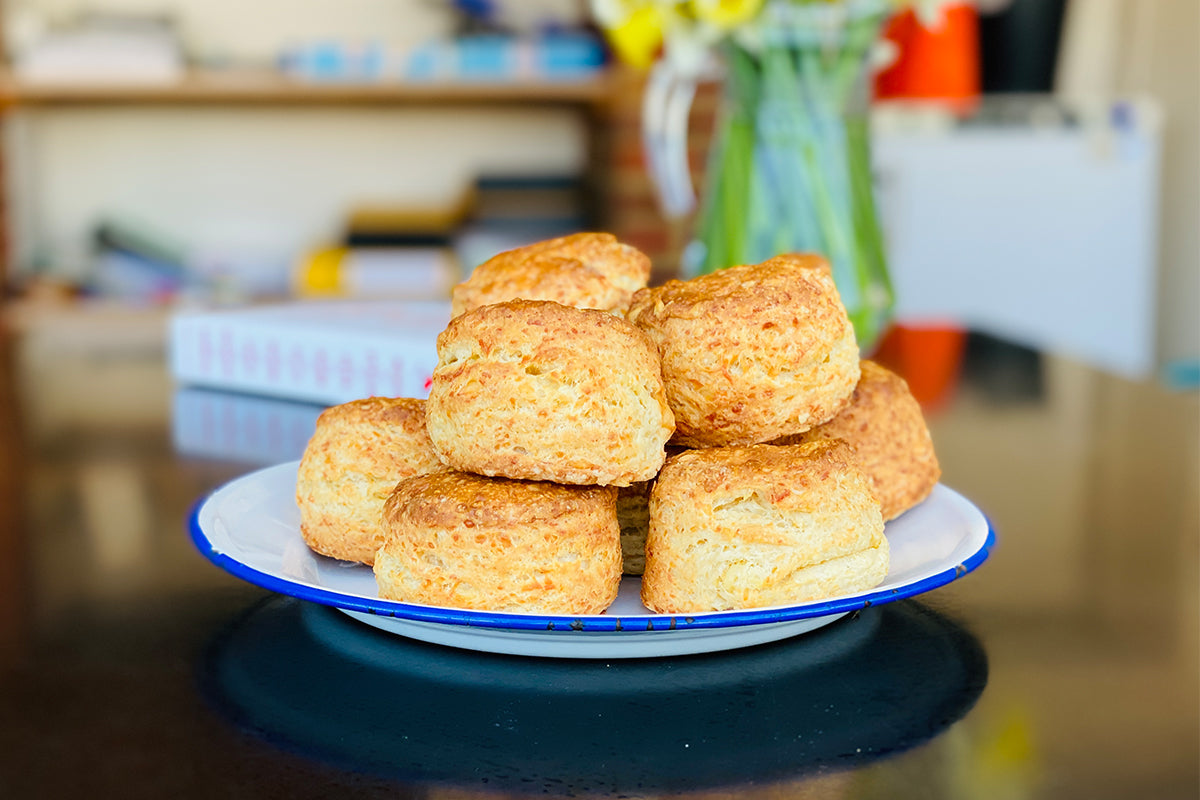 Wensleydale Cheese Scones
As picnic season approaches, these favourites of ours, make an excellent addition to a picnic. Best eaten on the day they're baked, or run them through an oven to refresh them the next. We love them sliced in half and filled with a fresh curd cheese or cream cheese, a sweet onion marmalade and some peppery rocket leaves.
Don't forget, the important thing to remember when making any scone is to not overwork the dough to help keep a light structure.
Makes 8
Ingredients
300g Self-raising flour plus more to dust
1/2 tsp bicarbonate of soda
1/2 tsp cream of tartar
pinch of English mustard powder
1/2 tsp sea salt
50g unsalted butter
100g Wensleydale Cheese
50g Parmesan Cheese
250ml buttermilk*, plus more if needed
1 egg (for the glaze)
Equipment
sieve
Large mixing bowl
sharp knife
chopping board
box grater
baking sheet and baking parchment
rolling pin
5cm pastry cutter
cooling rack
Preparation
Sift the flour, bicarbonate of soda, cream of tartar, mustard powder and salt into the bowl
Chop the butter into small cubes and keep it chilled
Grate the cheeses
For the glaze, crack and beat the egg, adding a splash of water and pinch of salt
Preheat the oven to 190oC/(fan)/375oF/gas mark 5
Line a baking sheet with baking parchment
Method
Rub the butter into the flour mixture with your fingers until the butter disappears. Stir in the grated cheeses. Make a well in the centre of the mixture and pour in the buttermilk.
Bring the mixture together quickly, adding a little more buttermilk if required.
Roll out on a floured surface to about 3cm deep.
Cut into circles with a 5cm pastry cutter and glaze with the beaten egg.
Bake in the hot oven for 20 minutes, or until well-coloured and golden.  then remove and leave to cool on a wire rack before serving.
*If you can't find any buttermilk, you can substitute with plain natural yoghurt.