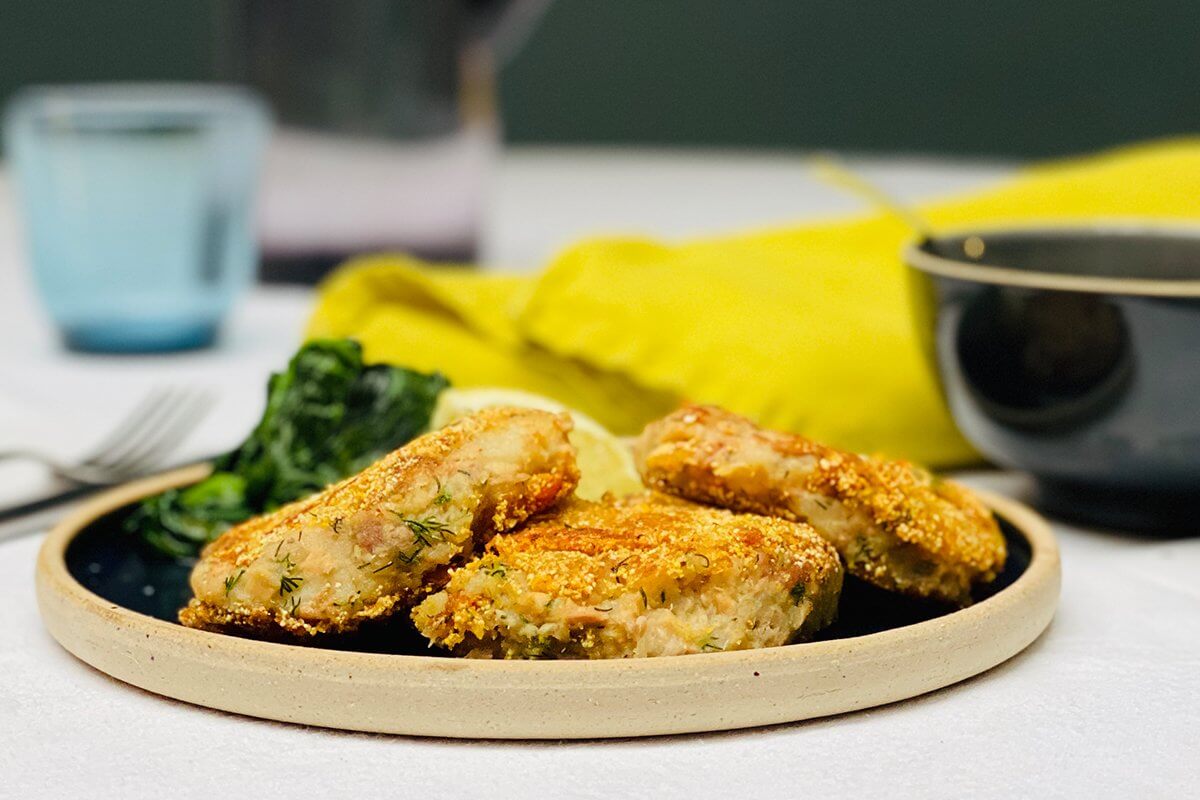 Tinned Fish Fishcake and homemade Tartare Sauce
Here's a quick-ish lunch suggestion that we originally included in our book Good Food For Your Table that we've now slightly updated, as we turned to it again in Lockdown whilst we were looking for easy lunch options. Take a tin of tuna, a tin of salmon, add some anchovies and some fluffy mashed potato and you've got a very taste dish.
Makes 4 large fishcakes or 6 medium sized
1 x tin salmon (200g) 
1 x tin tuna (160g) 
6 x anchovies - chopped
400g mashed potatoes 
1 tbsp fresh dill washed and chopped 
zest of a lemon 
salt 
100g polenta (optional) 
2 tbsp olive oil 
Drain the salmon and pick out the soft bones and skin 
Drain the tuna
Mix mash, fish, dilll, lemon zest together 
Shape into six cakes - use a ring if you have one 
Dip each side into the polenta - this stop the cakes sticking to the pan 
Leave to set in the fridge for an hour or overnight 
Heat the oil in a pan. Get the pan hot. 
Place 2 or 3 cakes in the pan and fry to golden about 4 minutes each side. 
Fry off the remaining 2 or 3 
Serve with a wedge of lemon.
Tartar Sauce 
50g mayonnaise
50g thick natural yoghurt 
2 tbsp of chopped cornichons 
1 tbsp of chopped capers
1 tbsp finely chopped shallot  
juice of 1/2 a lemon  
pinch of salt
Mix together. 
Add a teaspoon of the caper juice to lift flavour. 
Check seasoning.