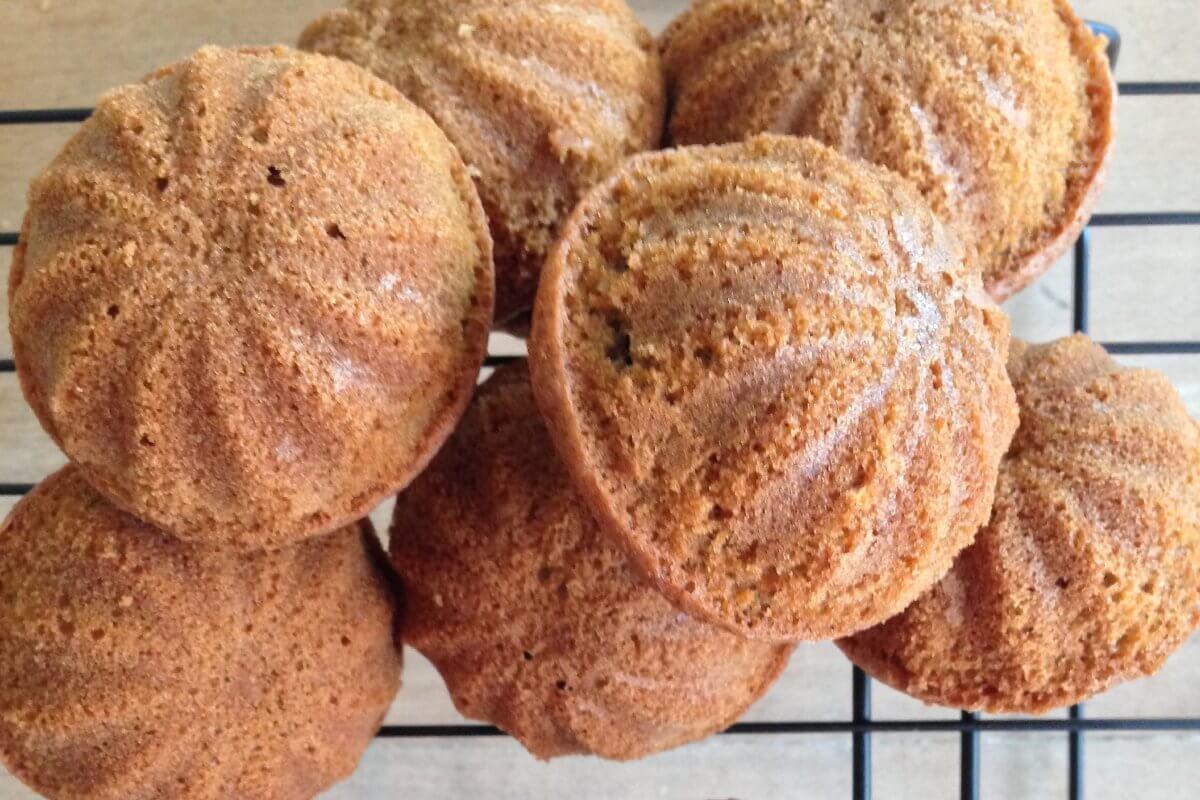 Mocha Madeleines
These are delicious for breakfast as well as during the day. (Make the batter the night before and chill, ready to use in the morning.) If you don't have a Madeleine tray, use a shallow muffin tray. Success lies in a gentle folding technique, to capture the air that has been introduced.
Makes 12
Ingredients
125g Plain flour, plus more for the tray
2 tsp cocoa powder
2 tsp baking powder
125g unsalted butter, plus more for the tray
2 tbsp instant coffee
2 tbsp milk
1 tbsp demerara sugar
3 eggs
100g golden caster sugar
Equipment
Sieve
Mixing bowl
12-hole madeleine tray/shallow muffin tray
Saucepan
Electric mixer
Spatula or large metal spoon
Piping bag (optional)
Preparation
Sift together the flour, cocoa and baking powder into a mixing bowl
Butter and flour the 12-hole madeleine tray
Method
Dissolve the coffee in the milk. Melt the butter and demerara in a saucepan set over a medium heat, making sure the sugar dissolves. When it bubbles and browns slightly, remove and stir in the dissolved coffee. Set aside.
Beat the eggs and caster sugar in an electric mixer until the mixture is thick and double in volume and has reached the 'ribbon' stage (this means if will hold a figure of eight when you squiggle the mixture back into the bowl); it may take several minutes. Fold in the sifted ingredients and the coffee mixture using a spatula or large metal spoon.
Cover and leave to settle for three hours, or chill and leave overnight if you plan to bake for breakfast.
When ready to bake, preheat the oven to 180oC/gas mark 4. Pipe or spoon the batter inot the prepared tray and bake for 15 minutes, or until firm to the touch. These are best served warm, but will keep for a few days in an airtight container (if they last that long!)