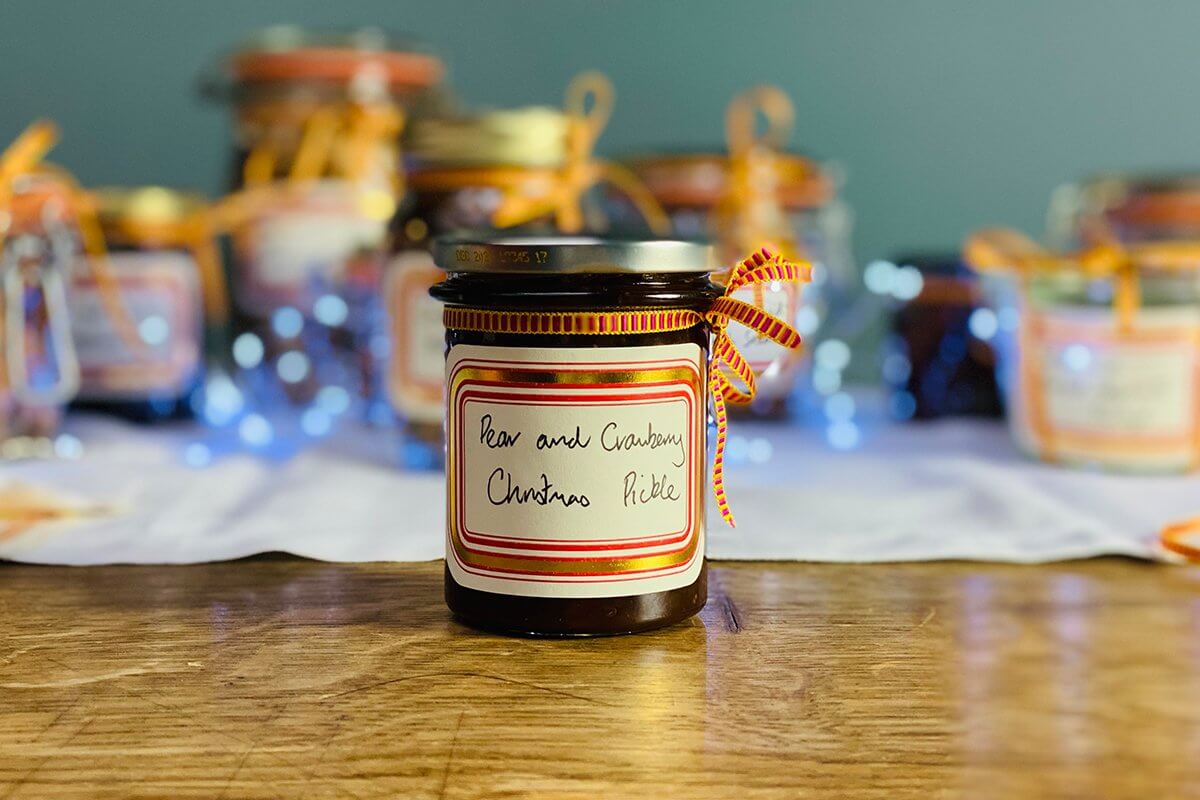 Pear and Cranberry Christmas Pickle, with Figs and Muscovado
A rich and indulgent Pickle for the Christmas pantry. With dried vine fruits, cranberries and figs, some fresh pear for sweetness and dark muscovado sugar that gives this a lovely depth of flavour. Serve with cold meats and cheeses at Christmas time.
Makes 6 x 330g jars
Ingredients
150g dried fresh or frozen cranberries
100g stoned dates chopped
150g golden raisin
150g sultana
100g prunes chopped
300g conference pear – peeled, cored and chopped
300g onion chopped
500g cider vinegar
250g light muscovado
250g dark muscovado
1tsp ground ginger
1tsp ground cinnamon
½ tsp ground allspice
1 tsp sea salt
3 tbsp brandy
Equipment
6 or so jars with lids
Sharp knife and chopping board
Wooden spoon
Jug
Pan
Preparation
Wash and scrub the jars and place in the oven to dry at 100oC for 30 minutes.
Boil the lids in water for 10 minutes to sterilise.
Remove the jars and allow to cool and cover with a clean tea towel.
Dry the lids with kitchen paper. Set aside.
Method
Mix all ingredients in your largest pan.
Bring to a gentle simmer and cook for approximately 1 ½ hours.
Stir from time to time with a long handled wooden spoon.
The mix will thicken eventually and should be glossy.
Remove from the heat and add the brandy. Stir.
Use a jug to pot into the jars and fill to the top of the jar above the "shoulder."
Work as cleanly as possible.
Screw the clean lids on tightly, label and leave to mature for 1 month.
Consume within 18 months.