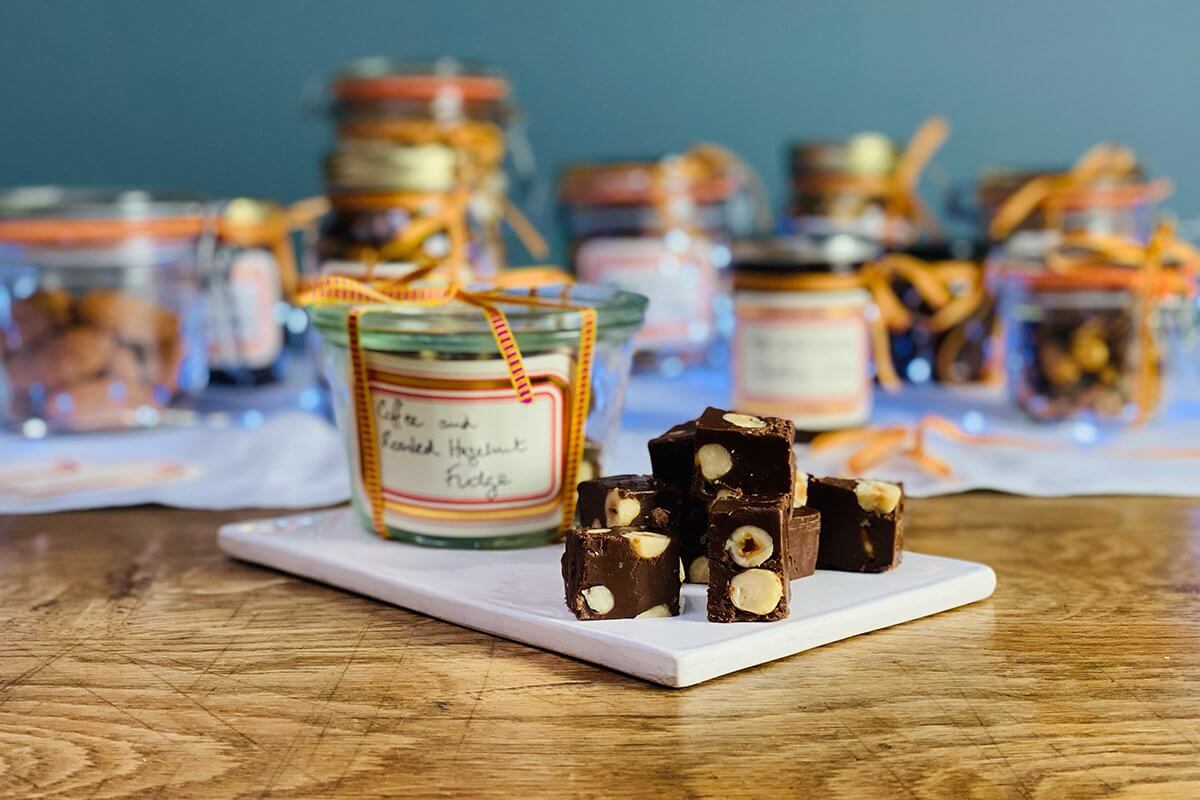 Coffee and Hazelnut Fudge
Fudge - This naughty, but nice, old favourite, is given a grown-up makeover with the addition of coffee and roasted hazelnuts.
Makes 500g – enough for 3 decent sized gift jars or boxes
Ingredients
120g dark chocolate
250g golden granulated sugar
75g golden syrup
80ml double cream
30g unsalted butter
1 tbsp instant coffee (dissolved in 1 tsp of hot water)
125g hazelnuts (skins removed)
Equipment
20cm baking tin
Baking parchment
Sharp knife and chopping board
Wooden Spoon
Heavy-based saucepan
Jam or sugar thermometer
Preparation
Line the sides and base of a square baking tin, measuring 20cm x 20cm x 3cm with baking parchment.
Place the hazelnuts on a baking tray and place in an oven at 160C for 10 minutes.
Finely chop the chocolate.
Method
Put the sugar, golden syrup and cream in a heavy-based saucepan set over a low heat, stirring from time to time to dissolve the sugar. When the sugar has dissolved, increase the heat to a gentle rolling boil and cook until 120oC has been reached on a jam or sugar thermometer. Don't stir at this stage.
Remove from the heat. With a wooden spoon, beat in the chocolate, butter and coffee for a few minutes to ensure it's fully combined. Once smooth and glossy add in the roasted hazelnuts.
Then, quickly and carefully pour into the prepared tray before it sets.
Leave to cool in a safe place, then cut into bite-sized pieces and store or place in jars ready to gift.
(The fudge will keep for 3 months if stored in a cool place, in an airtight container.)