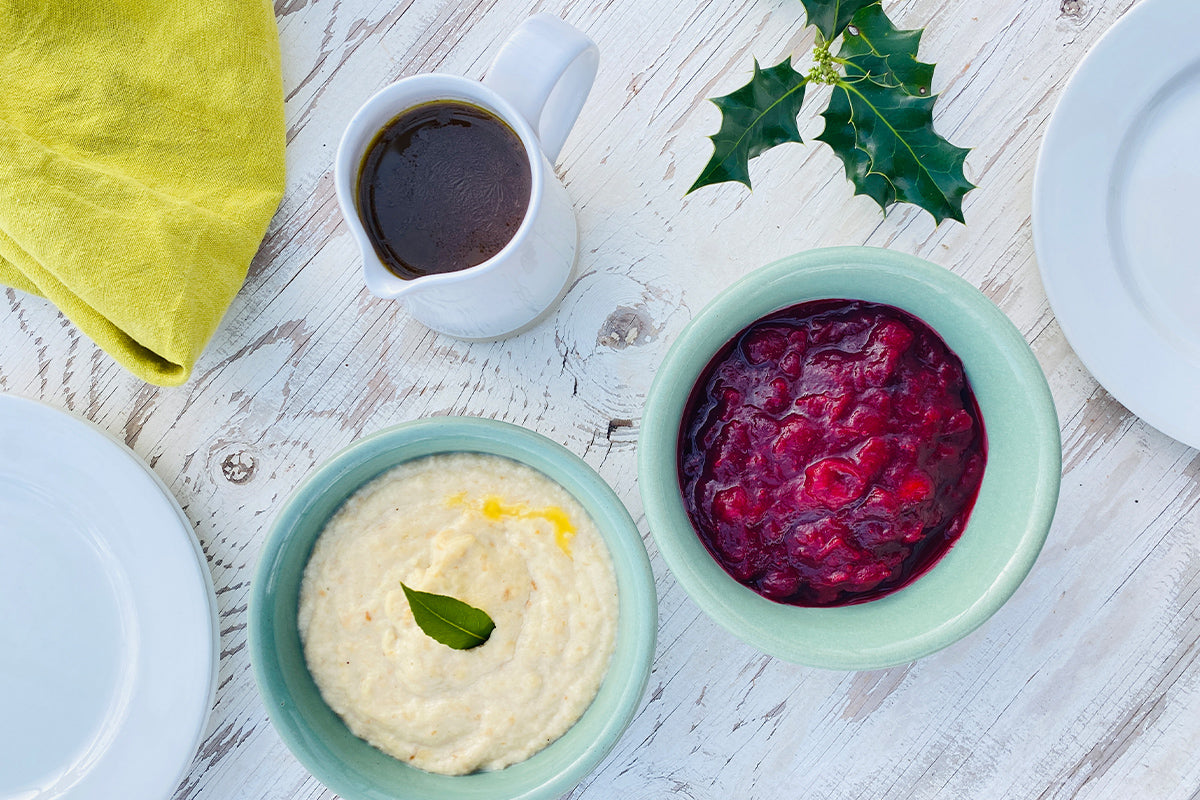 Three sauces for your Christmas lunch
To complete your Christmas lunch, these three sauces are the 'icing on the cake.' So much tastier than anything you could buy 'off-the-shelf' and will have your family and guests oohing and aahing…..
Spiced Cranberry Sauce
Serves 6

300g Fresh Cranberries
150ml orange juice + zest
80g Golden caster sugar
1 tsp cinnamon (or try Chinese five spice for a different twist)

Cook the fruit gently over a low heat in the orange juice first until broken down.
This only takes about 10 minutes.
Once cooked then add the sugar and spice.
Continue to cook for a few more minutes so the sugar dissolves.
Cool and serve.

Note: cooking the fruit without the sugar to begin with, stops the skins hardening.
Bread Sauce
Serves 6

500ml whole milk (or barista Oat Milk)
1 peeled onion
4 cloves
3 bay leaves
2 garlic clove crushed
½ tsp of ground mace (or 1 x large blade)
6 white pepper corns
200g fresh breadcrumbs
25g butter (optional)
Salt a pinch

Stud the onion with the cloves
Add the onion to the milk with the herbs and spice.
Simmer for 15 minutes so the milk is infused.
Pass through a sieve discarding the flavourings.
Add the breadcrumbs cook until thickened.
Remove from the heat and stir in the butter.
Season to taste with a little salt. Serve.


Christmas Gravy
Serves 6

2 onions, peeled and chopped
4 carrots, peeled and chopped
4 celery sticks, washed and chopped
6 cloves of garlic, crushed
3 bay leaves
½ bunch thyme
50g duck fat (or olive oil)
30g flour
30g butter
30ml Brandy
125ml Red Wine
1 ltr Chicken Stock (or veg stock)
Salt

Set Oven to 180°C
Pop the vegetables, onions, garlic and herbs onto a roasting tray and cover in the oil
Roast for 45 mins until soft and caramelised
Deglaze with the brandy and scrape into a pan
Add the wine and cook and stock bring to the boil – cook for 20mins
In a separate pan melt the better and add the flour to make a roux
Pass the gravy through a sieve and add the roux to help thicken
Cook for another 10min – adjust seasoning and serve

Note :
Or for a 'quick' gravy – Add 500ml of stock to the roasting pan that the Christmas bird was roasted in, heat and deglaze over the hob, add the roux (as above) to thicken. Strain and serve.