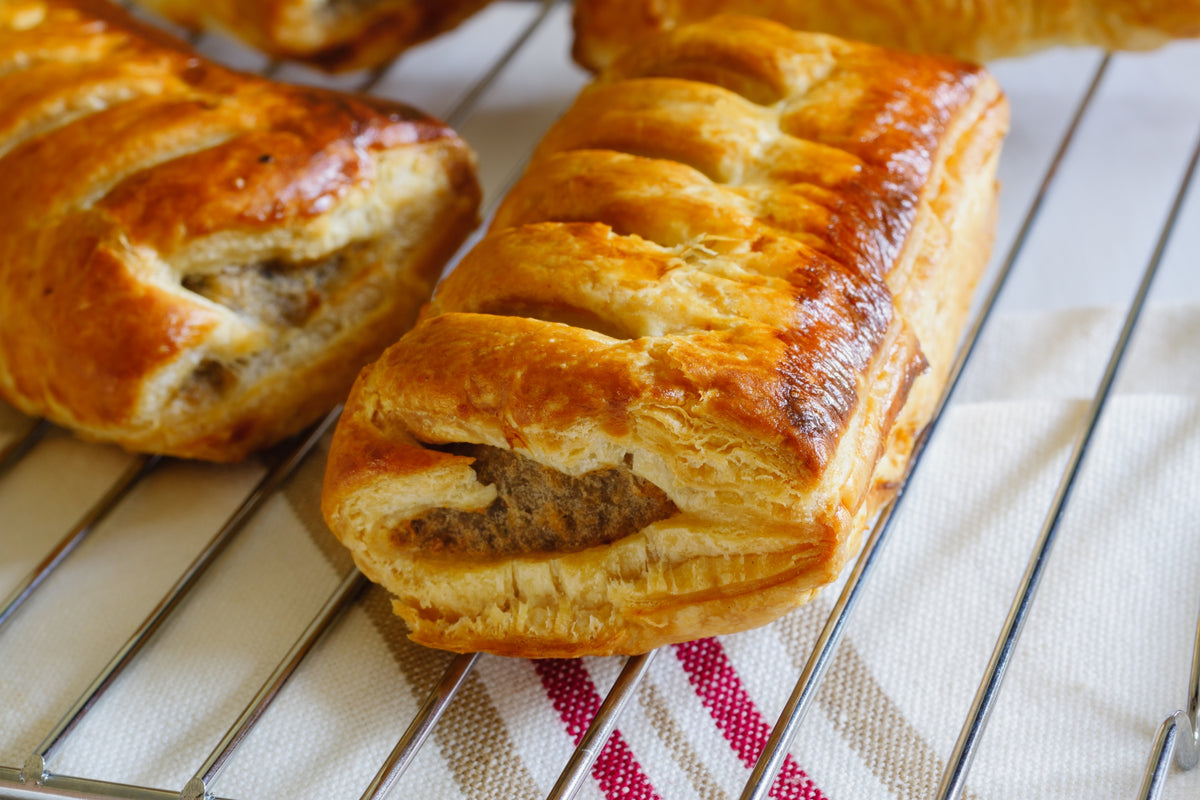 Sausage Rolls
The balance of flavoursome fat to meat is important for a good sausage roll. Some use pork belly, but we use streaky bacon to bring extra flavour. Breadcrumbs help retain the moisture and give a soft eating quality.
With picnic season well and truly underway, why not impress your friends and family with some homemade sausage rolls.
Ingredients (makes 6):
1 onion
6 sprigs of oregano
4 rashers of streaky bacon (rind cut off)
250g ready-made puff pastry sheet
1/2 tbsp flavourless vegetable oil
1/2 tsp sea salt
300g minced shoulder of pork
50g dried breadcumbs
1/2 tsp freshly ground white pepper
1 egg, lightly beaten
Fennel and onion seeds (optional)
Preparation
Peel and finely chop the onion.
Wash and pick the oregano and chop the leaves.
Mince the bacon.
Roll out the pastry into a rough 50x20cm rectangle and chill in the fridge.
Preheat the oven to 190°C/375°F/gas mark 5.
Method
Sweat the chopped onion and oregano in the oil in a frying pan, seasoning with the salt, until all is soft and translucent, but without colour. Set aside to cool.
Mix the pork and bacon together in a bowl and add the onions, breadcrumbs and white pepper. Stuff into a piping bag fitted with a 5 cm nozzle, if you like.
Pipe the meat down the length of the pastry. Or form it into a sausage shape and place it there.
Brush one side of the pastry with the egg. Flip the other side of the pastry over to cover the meat.
Seal the pastry with a fork and cut into six neat rolls. Place on a baking sheet.
Glaze with more egg and, if you like, sprinkle with the seeds. Bake for 25 minutes until golden brown and cooked through. Best served warm.