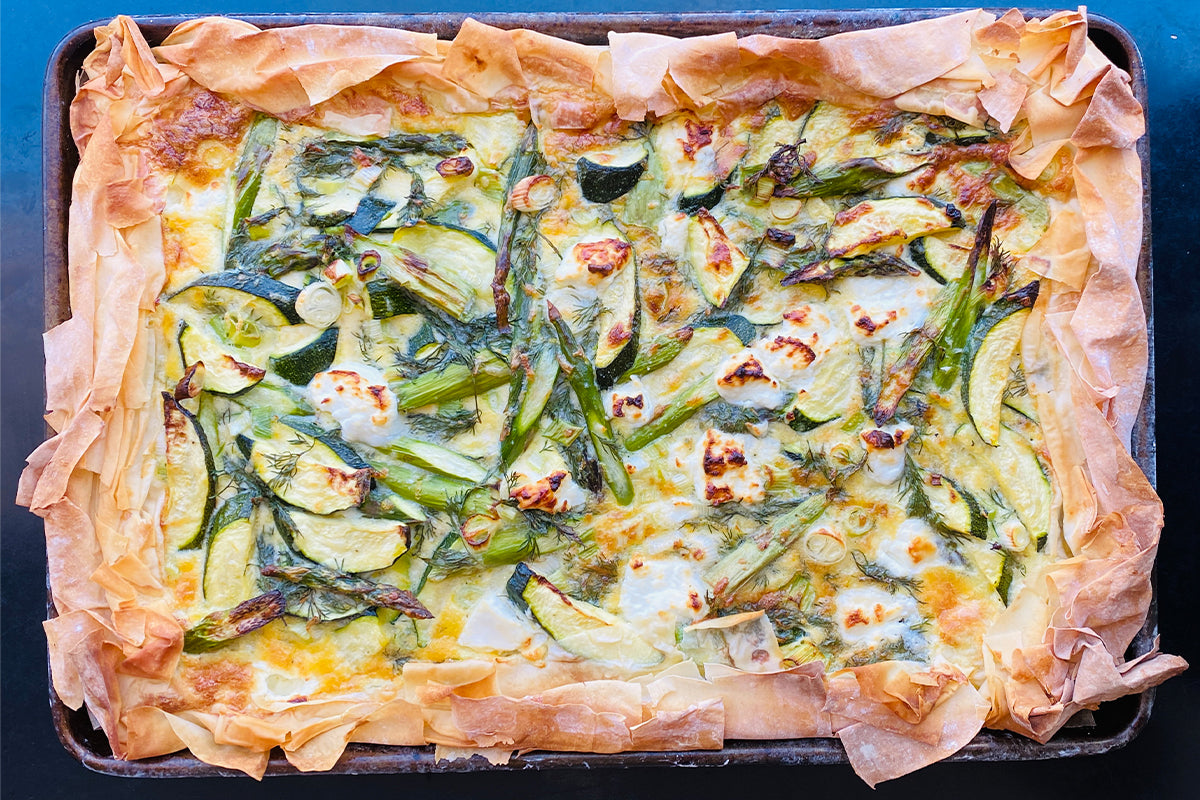 Asparagus and Courgette Filo Slice
Now that the English Asparagus season is underway, here's a fresh take on a classic asparagus tart that's really simple to make. Buy some pre-made/frozen filo pastry and you're half-way there to a great lunch (or picnic) option. Combined with courgette and goat's cheese, spring onion and fresh herbs, it also looks great too. 
Serve with a simple Potato salad and some fresh seasonal leaves.
Serves 6-8

200g asparagus  (1 bunch)
400g courgette
1 tbsp olive oil 
pinch of salt 

6 eggs 
200g Creme Fraiche 
30g Parmesan, grated
6 Spring onions, finely chopped
20g Dill, chopped 
lemon, zested 
salt and pepper 

220g filo pastry 
50g dried/toasted breadcrumbs 
50g butter (melted) or olive oil

150g Goats cheese 

40cm x 25cm shallow tray 
parchment paper 

Set the oven to 180oC 

Slice the asparagus and courgette and cover in 1 tbsp of olive oil and season.
Roast for 10 minutes to slightly soften.

Whilst the vegetables are roasting in the oven, in a bowl beat the eggs lightly and add the creme fraiche, parmesan, spring onions, dill and lemon zest. Season well with salt and pepper. 

Remove the vegetables from the oven and cool slightly, then set aside. 

Line the baking tray with the parchment 
Add a layer of filo and brush with the melted butter and scatter with some of the breadcrumbs.  
Repeat until all the pastry is used making sure you leave an overhang of pastry over each side. Once complete scrunch the overhanging pastry to make a raised edge. Blind bake in oven for 10 minutes to colour. Remove and cool slightly. 

Add the egg mix to the vegetables and pour into the filo pastry shell. Crumble over the goat's cheese. Bake at a lower temp of 160oC for 25 minutes or until set. 

Serve with potato salad and green salad leaves.