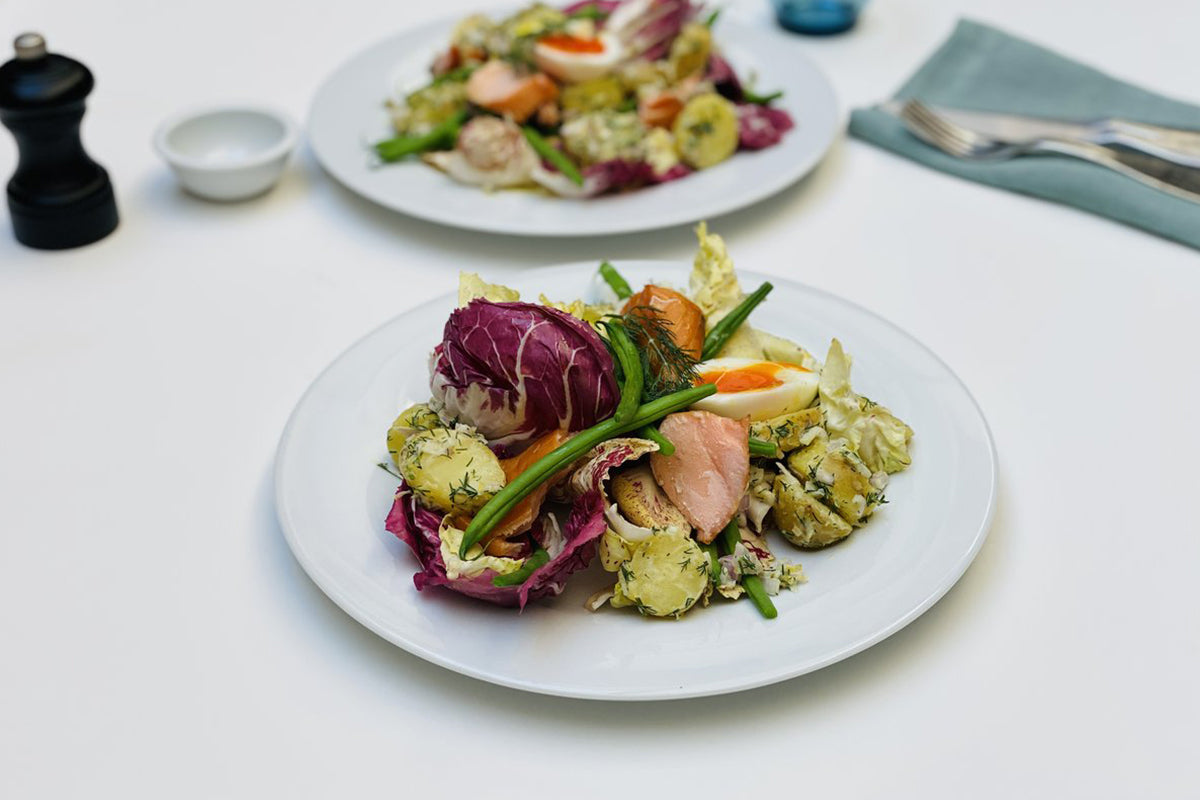 Hot Smoked Salmon, Egg and Potato Salad and Crispy Capers
Perfect for a light spring lunch or supper, this is one of our favourites for this time of year.
Serves 4 
300g Hot Smoked Salmon  
150g Green Beans - blanched 
2 free range eggs - soft boiled, peeled, cut in half. 
1 x radicchio head 
1 x castelfranco lettuce 
200g Ratte Potatoes  
100g shallots - finely diced 
1 x lemon juice and zest 
6 tbsp creme fraiche 
2 tsp dijon mustard 
1/2 bunch of dill - washed and chopped 
4 tsp capers - drained 
Virgin olive oil 
Salt and pepper 
Make the dressing; mix the cream fraiche, Dijon mustard, lemon juice, lemon zest and dill  
Add a few teaspoons of the caper brine, season with salt and pepper - set aside 
Boil the potatoes in salted water for 15mins until cooked through 
Remove, drain and slice 
Then cover with dressing whilst still warm and add the shallots (reserve a few spoons of the dressing). 
Mix potatoes and dressing then set aside. 
Fry the capers in a non-stick frying pan using a tablespoon of oil for 3 minutes until crisp - drain onto a sheet of kitchen paper to remove excess oil. 
Break up the lettuce leaves, wash and spin dry
Place the leaves onto a clean plates and drizzle over the reserved dressing 
Add potato salad then the green beans 
Flake the Hot Smoked Salmon on each plate 
Add half an egg in the centre of each dish 
Scatter with the warm crispy capers
Garnish with sprigs of dill 
Serve