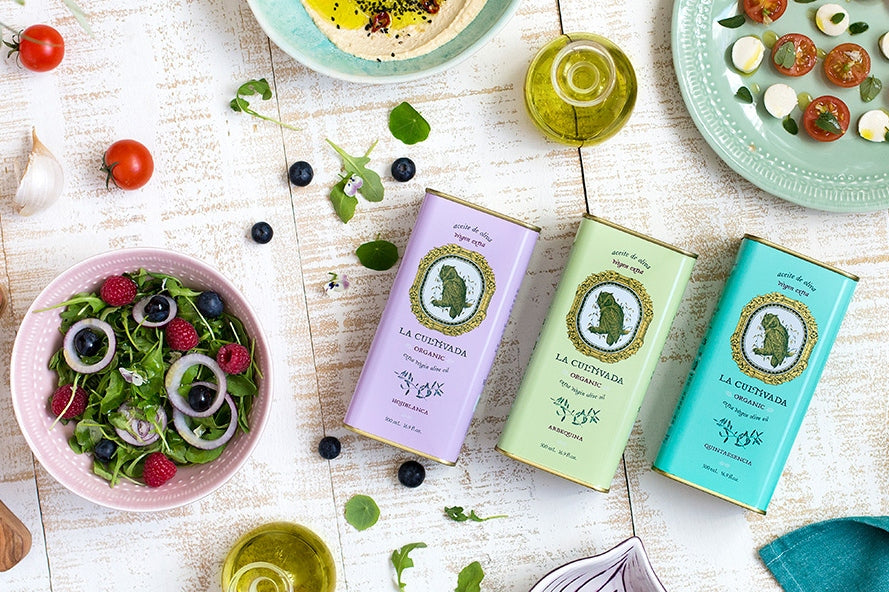 We have introduced a new olive oil to our shops.
La Cultivada is a Spanish based olive oil producer, fully committed to the culture of olive oil and heirs to a family legacy.
Back in 1896, 'The Molino de Santa Ana' Estate in Spain was founded and eventually became known as the 'Modern Mill' due to the advanced technology that was employed and soon enough La Cultivada was born. Since then, new varieties of olives have been cultivated, including Arbequino, Hojiblanco and Picual trees that allow them to produce their distinctive flavours.
Interestingly, the olive tree has been worshipped since ancient time in Mediterranean culture, considered as sacred, a symbol of wisdom, peace and glory. La Cultivada was inspired by this Greek mythology which led them to their vision and memorable branding.
La Cultivada's focus on sustainability, quality and care for those who work the land and their time-honoured heritage really resonates with us at Melrose and Morgan and we are proud to be one of their very few UK stockists.
La Cultivada offers a range of flavours to compliment a wide variety of foods. Arbequina offers fruitiness with low levels of bitterness, ideal for white fish or grilled shellfish. Their flagship oil, Hojiblanca, has a distinct character with its green notes and spicy finish, perfect drizzled over grilled vegetables or to enhance any pasta dish. Quintaesencia combines all flavours, presenting bitterness, spiciness and an almondy fragrance, paired beautifully with barbecued meat and smoked fish.
La Cultivada is stocked in both our shops in Hampstead and Primrose Hill.
---
← Older Post Newer Post →