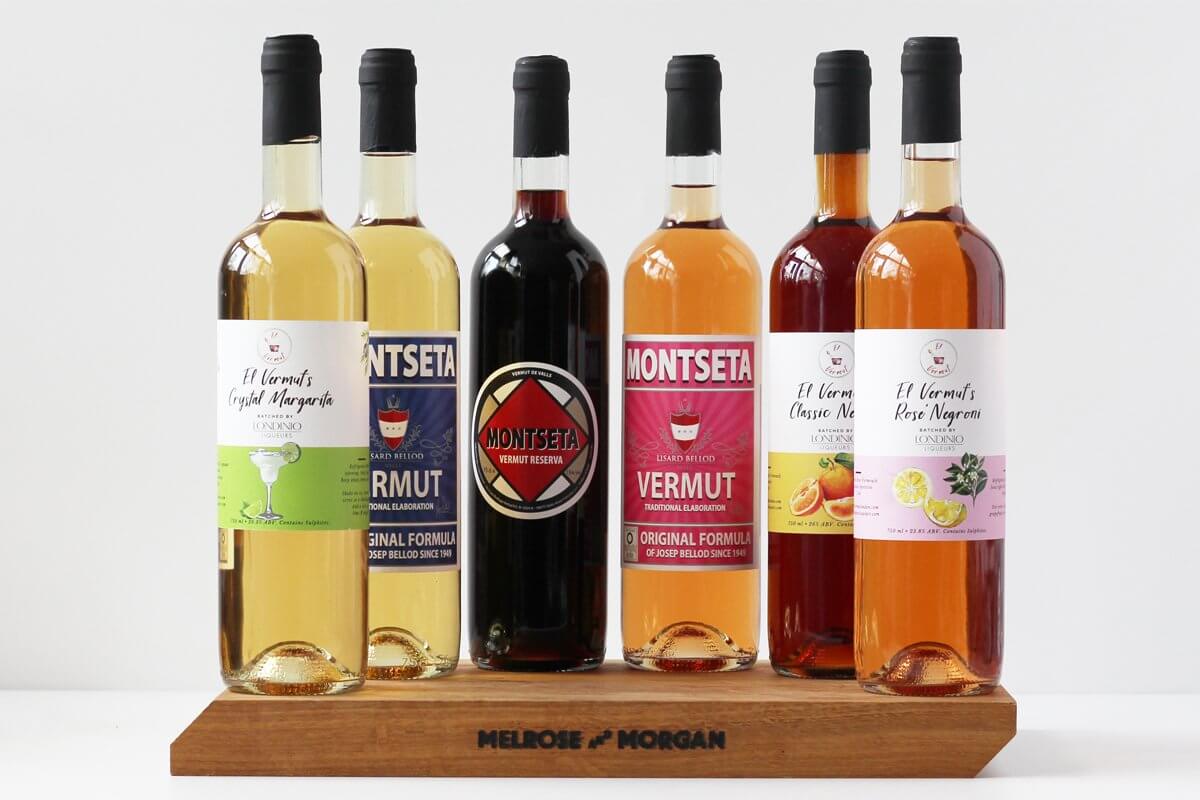 Brother and sister, Ollie and Greta Inglis moved to Spain in 2016 and whilst there became passionate about the wonderful world of Vermouth. Originally hailing from Italy, Vermouth is a fortified wine that's been flavoured with botanicals and was originally used for medicinal purposes, although soon found favour as the aperitif of choice. Ollie and Greta's love and knowledge allowed them create their own 'Vermuteria' on returning to London in 2018. A visit to their South London shop allows you to experience the wonders of Spanish Vermouth's of all styles of flavours.
The pair have worked closely with Magatzem del Vermut and Montseta vermouth house and through various local collaborations, they have recently launched an exclusive range of classic (vermouth based) cocktails, capturing the essence of flavours well-loved at El Vermut. These are fully blended and ready-to-serve.
We began stocking a selection of their Vermouths and cocktails earlier this year. For the drinks afficionado, they'd make a lovely gift, so he is some tasting notes to help you make your choices.
Montseta White Vermouth:
Montseta Blanco is sweeter and lighter than its red counterpart, with floral notes and a soothing vanilla finish. Best served with ice, a slice of lemon and an olive.
Montseta Reserva Vermouth:
A rich, full-bodied red vermouth is aged for 12 months in barrels. Caramel, Mediterranean herbs & orange give way to a warming, bitter/sweet array of flavours. Perfect for cold winter nights as much as for warm summer evenings.
Best served with ice, a slice of orange and an olive.
Montseta Rose Vermouth:
Macerated with cherries, this rose' vermouth is the newest creation from the Montseta vermouth house. Very fresh and with a slightly more bitter finish, notes of wild cherries and red fruits.
Best served with ice, a slice of lemon and an olive.
Ready to Serve - Classic Negroni:
El Vermut's Classic Negroni expertly blends Montseta rojo vermouth, gin and Campari.
A smooth, bitter-sweet take on the iconic cocktail, with a warm punchy finish.
Serve with large ice cubes, and a wedge of fresh orange.
Ready to Serve Rosé Negroni:
El Vermut's Rosé Negroni blends Montseta and Londinio rosé vermouth, gin and Campari to create a fruity and fresh cocktail with a moreish bitter finish.
Serve with large ice cubes and a slice of fresh lemon
Ready to Serve Crystal Margarita:
Our Crystal Margarita blends Tequila Blanco, clarified lime juice and our orange gin liqueur - no need to worry about shaking, this margarita is just as delicious stirred over ice with a slice of lime.
To garnish, salt the rim of a Margarita glass and add a wedge of fresh lime.
---
← Older Post Newer Post →