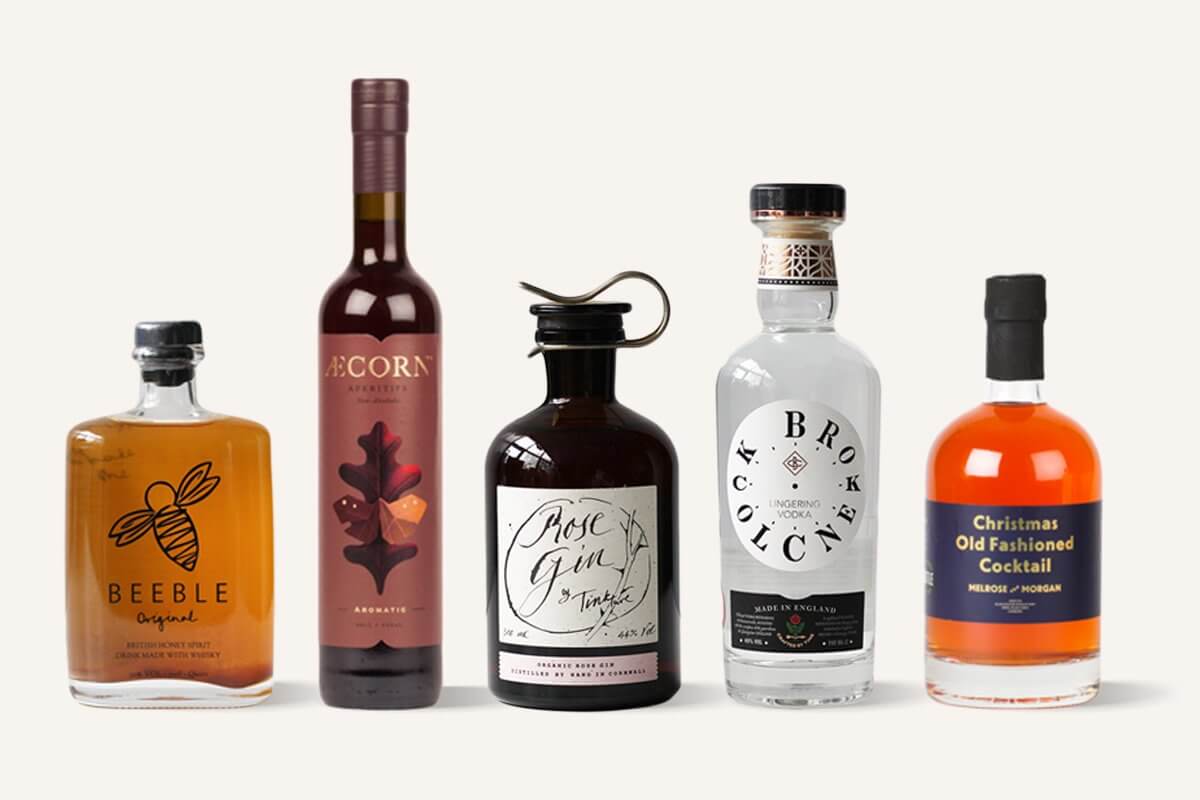 Many of us will be partying at home this Christmas season, so we've lined up our top 5 favourite drinks to get you in the mood. 

No. 1
Our very own Christmas Old Fashioned Cocktail – made for us by our friends at Bottle Bar and Shop in South London, this pre-mixed cocktail, is as good as anything you'd find in a top-notch cocktail bar. The classic Old Fashioned Cocktail has been given a Christmas make-over with the addition of some seasonal spices. The vodka base has been infused with cardamom, vanilla, cloves, cinnamon, star anise, mixed spices and bitters over a 3 month period. We serve this pre-dinner straight over ice with a slice of orange – or better still a slice of blood orange. It's very sophisticated and will be sure to get your evening off on the right note.
No. 2
For those abstaining this season, we've got the perfect alcohol-free Aperitif. For winter we recommend Aecorn Aperitif's Aromatic. Like the name suggests definitely aromatic and complex with notes of smoked Cherrywood, Vanilla, Kola-nut and a bitter orange flavour. It's full-bodied and silky smooth, finishing with warming flavours of Clove, Cassia and Oak. 
We serve it chilled and neat, or over ice in a wine glass with a splash of sparkling water and a slice of Pink Grapefruit. 
No. 3
Rose Tinkture Gin – a new favourite of ours and only introduced to us this year. Think classic Dry Gin that's light with a hint of citrus, whilst the Juniper and coriander add warmth. When poured it has a lovely amber colour, but the magic really happens when you add tonic – it becomes a lovely pink colour – hence the rose in the name. Classic Gin with a classy twist – that's good as a treat for yourself or would make a lovely present.
No. 4
Also new to us this year is Broken Clock Vodka. Made in the English countryside and as the name suggests something to be lingered over, this traditionally made vodka, has all the classic elements of a great vodka. It's so good it can be sipped and you'll notice hints of apple, rose and white pepper. For alternative ways of enjoying, try a Negroni, Moscow Mule or perhaps a White Russian.
No. 5
Here's an easy gift option  - Beeble Original, a delicious honey flavoured Scotch whiskey. Our friends over at Beeble HQ have over 130 sustainable hives in Wiltshire from which they collect delicately flavoured apple blossom honey, which they add simply to the Whiskey. The natural sweetness of the honey compliments the warmth of the whiskey and should be enjoyed on a night in by the fire. It's a kind of remedy-made Toddy! If you prefer less sweetness, it can be paired with a good Ginger Beer to balance and add a dash of spice. One for a cold night in.
If you're looking for an easy gifting solution with a nice bottle or two, we think our Aperitif, Sparking and Cocktail Hamper would go down a treat! 
We'll also be sharing our top 5 wine choices for Christmas in the coming weeks.

 
---
← Older Post Newer Post →