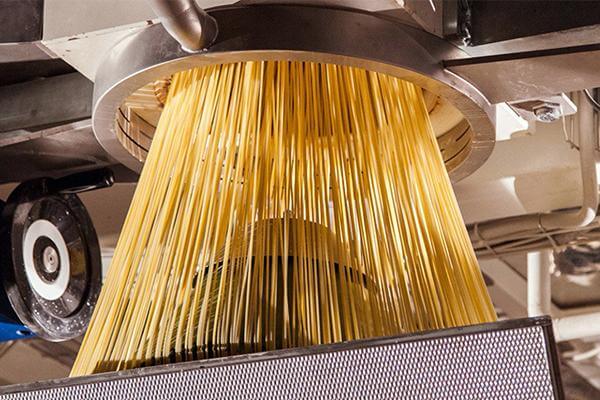 Even though kneaded doughs have been part of Italy's food heritage for a number of centuries, it was only after the Second World War that the word 'pasta' was used to refer to all the forms of foods that now fall under that banner. It's said that there are 310 specific types of pasta, known by some 1,300 different names that vary from Italian village to village and even street to street. The name often gives a clue to the pasta's shape; think of Cappellini D'Angelo (angel's hair), or orecchiette (little ears).
 
We didn't have such variety in our youth – that was back in the Pre-Pesto Era – though we do remember those very long, blue packets of spaghetti in our mothers' kitchens. We ate spag bol at home, but that was it.  These days, pasta is a staple. Of course, pasta dishes can be very complex, or come with a sauce that has taken hours to make. But, mostly, dried pasta is the sustaining, comforting and quick meal when our brains can't think about anything more taxing, or if you're just cooking for yourself. 
 
If you buy dried pasta and a tub of sauce, you can even kid yourself you are doing 'proper cooking'… Have a quick rummage in the fridge and find something to add to your bought sauce: spinach? Goat's cheese?  Purple-sprouting broccoli? Dinner, without the need to peel anything.
Our favourite pasta and a firm favourite with our customers is Mancini Pastificio Agricolo. They take great care throughout the whole production process, from sowing the first seeds through to pasta packing. It's a long journey but, in our opinion, no one does it better.
FROM THE FIELDS


Making this delicious pasta starts with the seed selection. Based in the eastern Italian region of Le Marche, a beautiful area sitting between the Apennine Mountains and the Adriatic Sea, the Mancini company only select varieties of durum wheat that will suit their fields and will flourish throughout production. Once seeds are selected, the study of fields begins to ensure the most suitable agricultural methods. The durum wheat is grown in rotation with pulses and industrial crops, such as sunflower and rapeseed, to improve the fertility of the soil each year.
Mancini's durum wheat seeds are always sown at the beginning of November. This is so that the wheat is given the most time possible to mature. Harvesting always takes place at the end of July, once the wheat has reached the optimal moisture content which is critical for preservation and storage. After being cleaned and stored, different varieties of durum wheat are then blended to create the quality characteristics of this unique pasta.
The Mancini pasta company always strive to protect the precious environment the pasta is grown in. They practice eco-friendly and sustainable agricultural management to create wheat of the highest nutritious quality with minimum environmental impact. This is one of the many reasons why we are so happy to be one of the stock such a wonderful product at Melrose and Morgan.

THE PASTA MAKING PROCESS
 
Now that the grain is ready the pasta making can begin! The grains of wheat are milled throughout the year to become semolina. Ensuring the semolina is always fresh and the correct particles size is essential to ensure the perfect pasta.  Each pasta shape is created using a bronze circular die. Using bronze increases the roughness of the pasta's surface which means your favourite sauce coats the pasta perfectly.
 
The care and attention to detail continue with the pasta drying process. Each pasta shape has specific drying methods to preserve and enhance the characteristics of the Mancini wheat. Drying is always slow and low with times varying between 24 – 44 hours.
 
Once dried, the pasta now ready to be packed in recyclable materials and shipped to us here at Melrose and Morgan. Packing is one of the most important parts of the whole process to make sure unique Mancini pasta flavour is not lost.
 
We're always delighted when a new delivery of Mancini pasta arrives as our customers really appreciate the quality of this exceptional pasta in which you can make a simple but utterly enjoyable dinner in under 30 minutes.
 
First base is in the method.
 
Pasta should always be boiled in a large pan of water, say 1 litre for every 100 g of pasta. The pan should be low and wide to ensure an even heat distribution. Always use plenty of sea salt, allowing 1 tsp per litre of water, but only add it once the water is boiling, as salted water takes longer to boil. Don't be tempted to add oil to the water. (The one exception is that a few drops can help pieces of filled pasta – such as ravioli and tortellini – from sticking to each other.) Only put the pasta in the water once it has been salted and has reached a rolling boil. Then balance the lid on two-thirds of the pot to help return it to the boil quickly. Once it's reached a rolling boil again, the lid can be removed and the heat reduced a little, always maintaining the rolling boil. A quick stir will help prevent the pasta from sticking. Dried pasta should always be served al dente or 'to the tooth'. Follow the recommendations on the packet, but always taste the pasta a minute or so before the packet suggests, to ensure it is al dente. (Most dried pasta takes between seven and 10 minutes to cook.)
 
Keep tasting until it has reached the desired texture. Once cooked to your taste, remove the pan from the heat and drain, but don't let it stand or start to dry out; it should appear and remain slippery. (Never run your pasta under cold water.) Add the drained pasta to the sauce, either in a warmed bowl or directly to the pan the sauce has been cooked in, then serve straight away. The sauce or dressing should coat your pasta, rather than sitting in a lump on top!

4 Seasonal Pasta Ideas

SPRING • Steam stems of purple-sprouting broccoli and toss with a drained jar of artichokes, then with cooked, drained penne. Lubricate with basil oil and finish with torn wild garlic leaves and shaved Berkswell cheese.
 
SUMMER • Goat's Curd and Broad Beans Melt goat's curd over cooked, drained orzo. Add blanched broad beans and peas. Stir in finely grated unwaxed lemon zest and chopped mint leaves and finish with pea shoots.
 
AUTUMN • Wild Mushrooms and Cavolo Nero Sauté wild mushrooms. Stir in crème fraîche and Dijon mustard, adding black pepper. Discard the ribs from cavolo nero and tear the leaves. Wilt in a separate pan, then squeeze out excess water. Toss through cooked, drained fettuccine with the mushrooms. Finish with sourdough crumbs fried in sage butter.
 
WINTER • Oregano and Nut Crumb Make a nut crumb by blitzing equal amounts of pine nuts, almonds and pistachios in a food processor. Fry dried oregano with finely chopped shallots until soft and season well. Add the nuts and serve over cooked, drained spaghetti. Sprinkle with a peppery extra virgin olive oil and grated Parmesan cheese.
---
← Older Post Newer Post →