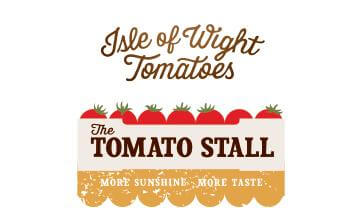 Tomatoes have been growing in the fertile Arreton Valley on the Isle of Wight for over 30 years. The Island's unique maritime climate and southern location boasts some of the best sunshine levels in the UK, helping the Tomato Stall to grow some of Britain's tastiest tomatoes. 
Started in 2007, the Tomato Stall showcases the speciality organic and conventional tomato varieties grown on their Isle of Wight nursery and provide them directly to the consumer. In that same year, they loaded up their first transit van with tomatoes and made the journey to the farmers' markets in London. The reception their tomatoes received was overwhelming and, over time, they travelled around the country trading at farmers' markets wherever they could.
They now produce a wide range of products that encapsulate their 'flavour is foremost' ethos and all the products are completely additive and preservative free. Their head growers have an amazing 50 years of knowledge and experience between them and all of their tomatoes are left to ripen on the vine and picked at their peak of flavour.  On top of this, their growing system is completely biodegradable, from the coconut husk that the plants are grown in to the string that supports them. All their plant waste is turned into compost and used to enrich the soil of their organic crops the following year. They even use natural predators to control pests, and the pollination of all the plants is done by a hardworking team of bumblebees that are native to the UK.
Passionate for all things tomato, they are continuing to grow and expand their range to bring customers the next best thing.
---