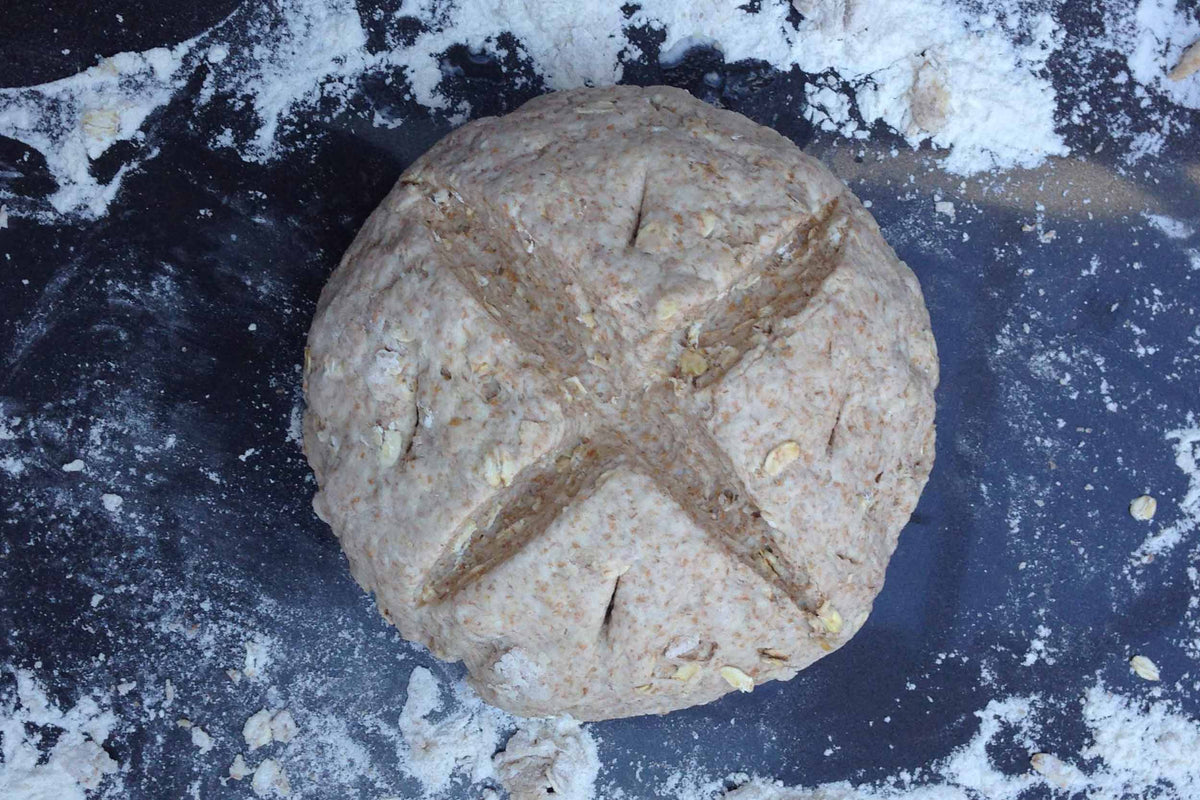 Wholemeal Soda Bread
This is a very quick, tasty bread and there's no fuss or waiting around for doughs to rise. The quality of the bread will rely on the flour you buy, so go for stoneground versions.
This is always best eaten on the day it's made but will keep for two days under wraps. Serve with soups and cured fish.
Ingredients (makes 1 loaf):
225g plain flour, plus more to dust
225g wholemeal flour
1 tsp bicarbonate of soda
1 tsp sea salt
50g oats
1 tbsp honey
1 tbsp sunflower oil
400ml buttermilk
Preparation
Sift the flours, bicarbonate of soda and salt into a large mixing bowl. Stir in the oats.
Method
Preheat the oven to 220°C/425°F/gas mark 7.
Stir together the honey, oil and buttermilk, add the oats into the flour mixture.
Make a well in the centre of the flours and pour in the honey mixture. Start to bring the flour mixture gently into the well.
Now make a claw shape with your hand and, in firm circular motions, bring the dough together quickly and briskly (the less handling the better for this style of loaf).
Place on a floured surface and, without kneading, shape the dough into a neat round.
Cut a deep cross into the dough, across the whole diameter to help with an even bake and insert a sharp knife into each quarter for the same purpose.
Bake in the centre of the oven for 15 minutes, then reduce the oven temperature to 200°C/400°F/gas mark 6 and bake for a further 20 minutes.
Tap the bottom of the loaf: it should sound hollow. Return to the oven upside down to bake for a final five minutes.
Remove to wire rack to cool.
Eat as soon as possible.