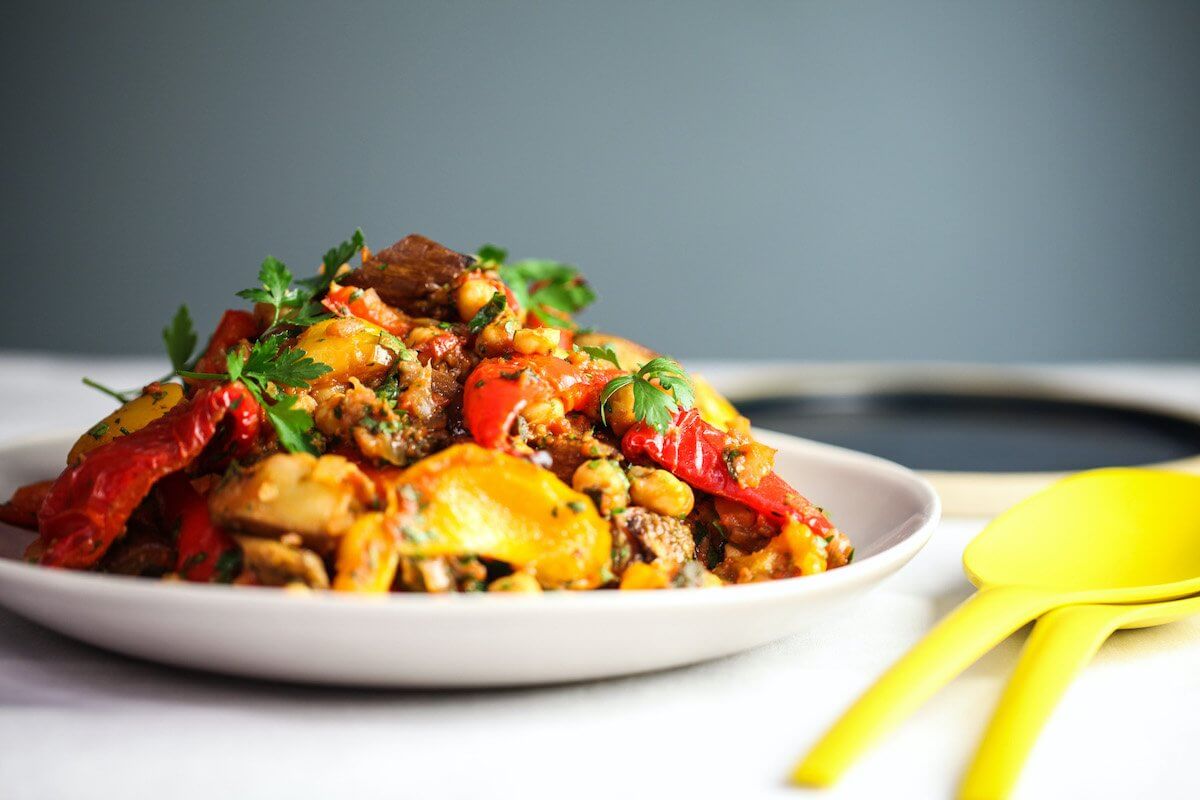 Spiced Chickpea Salad with Roasted Aubergines and Peppers
A satisfying salad that can be eaten cold or warm and keeps well in the fridge. Excellent with barbecue food or serve as a starter with peppered yoghurt. Good quality canned or jarred chickpeas speed up the process, as does a tub of shop bought fresh tomato sauce.
Serves 6
Ingredients
400g canned chickpeas or 200g dried chickpeas
2 red peppers
2 yellow peppers
2 aubergines
½ tsp fennel seeds
½ tsp cumin seeds
½ tsp coriander seeds
20g flat leaf parsley leaves
2 tbsp light olive oil
Fine sea salt
150g Tomato and Oregano Sauce (recipe can be found under recipe section on our website)
Equipment
Can opener
Sharp knife and chopping board
Frying pan
Mortar and pestle
Mixing bowl
Oven tray
Preparation
Drain and rinse the canned chickpeas or soak and boil the dry chickpeas.
Wash all the peppers and cut into bite-sized pieces, removing seeds and stalks.
Wash the aubergines and cut into bite-sized cubes, removing the stalks.
Dry-fry all the whole spices over a low heat until they start to colour.
Crush the spices in the mortar and pestle.
Wash and chop the parsley.
Preheat the oven to 200oC/gas mark 6.
Method
Place the vegetables in a mixing bowl, toss with the oil and season well with salt. Spread on an oven tray in a single layer. Roast for 15 minutes until coloured and still holding their shape.
Meanwhile, warm the tomato sauce and add the ground spices from the mortar. Cook gently for five minutes, allowing the flavours to meld.
Dress the chickpeas in the tomato sauce, then gently stir in the roasted vegetables.
Scatter with parsley and serve.