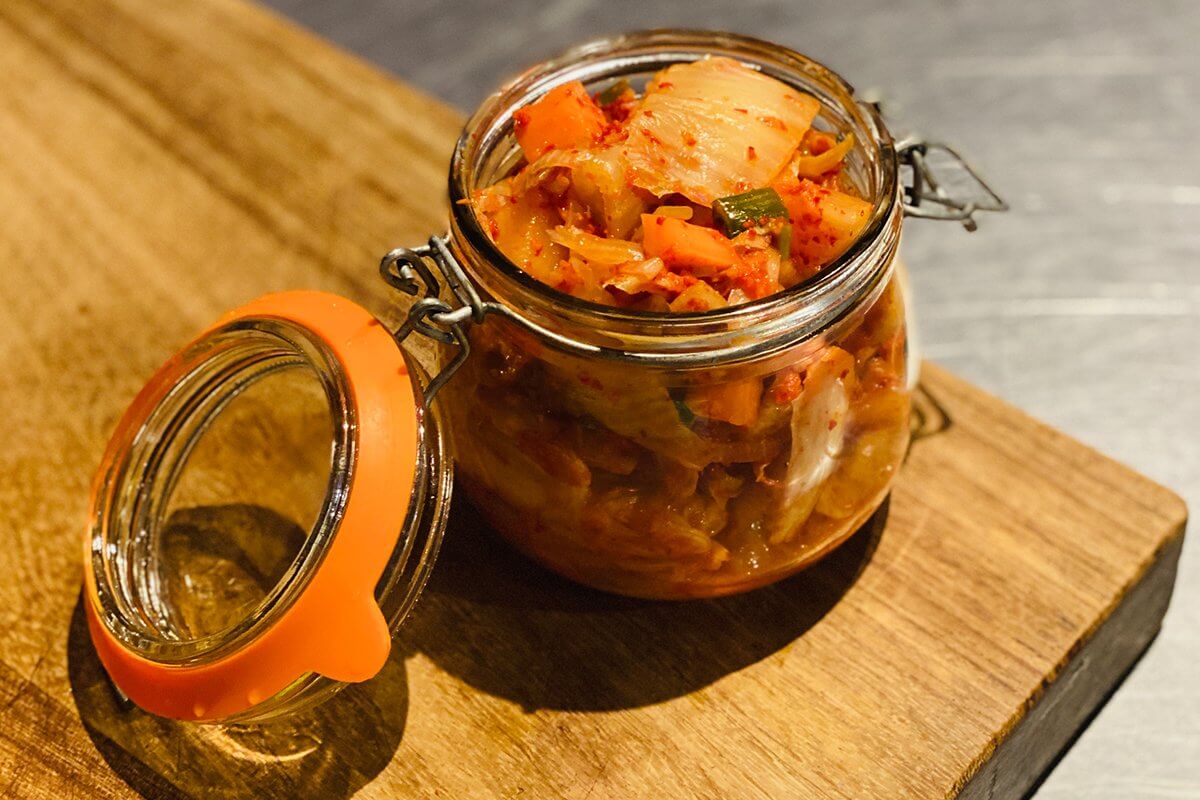 Quick Kimchi
Try making one of our favourite ferments at home. It will help support your gut health while spicing up a burger or companion to meat and fish dishes.
Makes 1ltr Jar
50g course sea salt
1 x Chinese Cabbage 700g – rinsed under cold water
6 x cloves of garlic approx. 20g – peeled and minced
1 x thumb of fresh ginger 20g  –  peeled and finely grated
50g Gochugaru (Korean chilli flakes)
2 tbsp fish sauce
1  bunch of breakfast radish 150g – washed and chopped in half
1 carrot approx. 150g – peeled and diced into finger width cubes.
½ bunch of spring onions – washed and chopped
Equipment
1 x large bowl
kitchen knife
vegetable peeler
1 large kilner jar or a crock pot.
Wash all the equipment in hot soapy water and rinse well and dry with a clean towel.
Chop the cabbage into two finger width squares
Break the leaves up with your clean hands and place in the bowl. 
Add with the salt, mix lightly and leave to brine for 3 hours covered.
Whist the cabbage is brining make the sauce.
Mix the garlic, ginger, Gochugaru and fish sauce with 100ml water – set aside
After the 3 hours the cabbage will have wilted and let out some of its juices.
Add the chopped carrot, radish and spring onion and leave for a further 30mins
Rinse in cold water to remove excess salt.
Mix the rinsed vegetables with the sauce using gloved hands or a metal spoon. 
Pack into the jar and press to remove any trapped air.
Leave at room temp (not in direct sunlight) for 5 – 8 days to ferment.
Keep tasting and pushing down the mix to remove any trapped air.
When you are happy with flavour transfer into smaller clean jars and pop into the fridge to stop fermentation.
Will keep for a month.