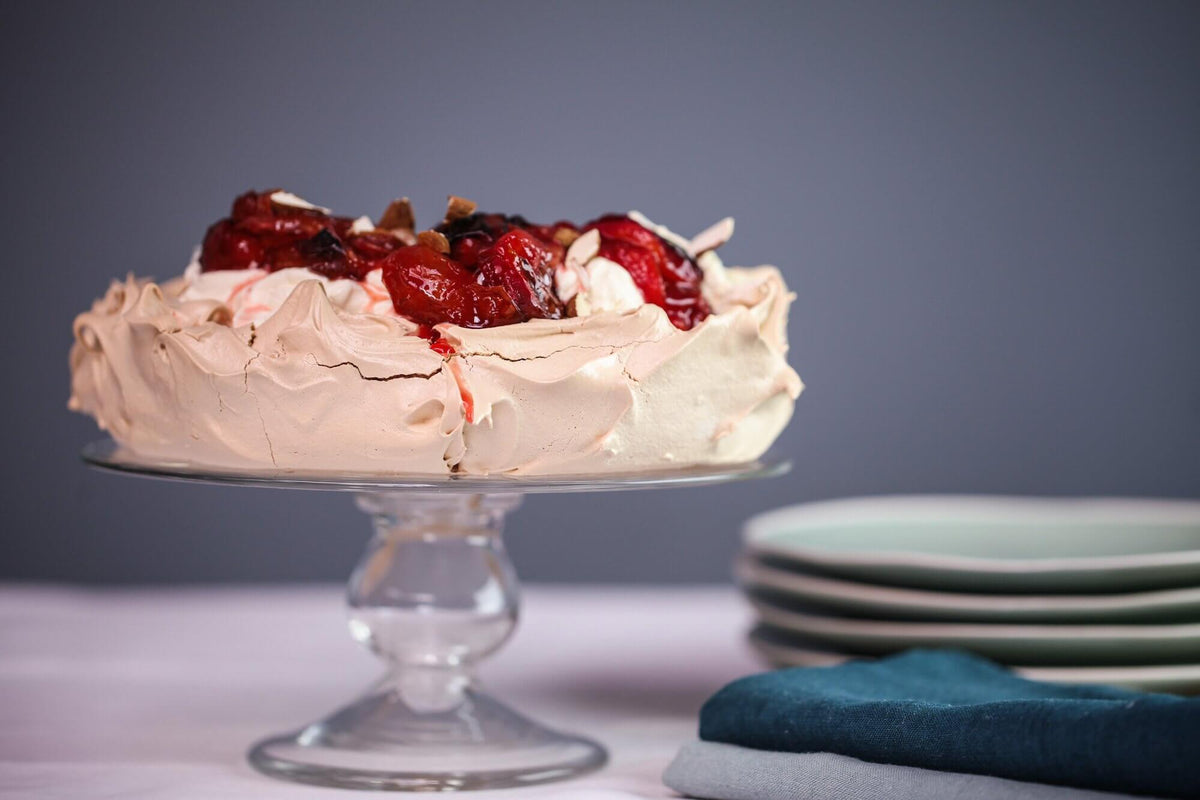 Plum Pavlova
Make the most of seasonal English Plums with this easy to make, indulgent dessert. Soft, chewy meringue, gently spiced and roasted plums with thickly whipped cream……
Roast Plums, Spiced with Cinnamon and Star Anise Pavlova
Serves 6 - 8
Ingredients
200g light muscovado sugar
4 egg whites (total weight 100g)
1kg plums (Victoria's or Marjorie Seedlings)
100g demerara sugar
2 sticks of cinnamon
2 star anise
Juice of a lemon
500ml Double Cream
Equipment
Electric mixer
Food processor
Baking sheet
Baking parchment
Mixing bowl
Roasting dish approx. 20cm x 32cm
Preparation
Pre-heat oven to 120oC/Gas Mark ½
Clean and dry the bowl of the electric mixer thoroughly
Method
Blitz the sugar in a food processor for 1 minute or so. The structure will change, leaving the sugar with a light sandy texture.
Whisk the egg whites in the electric mixer for 1 minute. Once they have doubled in volume, start to add the sugar a little at a time, leaving gaps between the spoonfuls to let the sugar dissolve. Continue until all the sugar has been added and the mixture is glossy and holds stiff peaks.
Draw a 20cm circle on the baking parchment (roughly the size of a smallish dinner plate), then turn the parchment over and place on your baking sheet. Spoon the meringue mixture onto parchment within the drawn circle and form the meringue into a round flat mass with a little a well in the middle, thus creating a nest.
For the first hour, bake at 120oC/Gas Mark ½, then for a further hour reducing the temperature to 100oC/Gas Mark ¼. Turn off the oven and leave the meringue to cool inside with the door closed, overnight if possible. Once fully cooled remove from the baking sheet and set aside.
Cut the plums in half and remove and discard the stones. Place the plums in a bowl with the sugar and lemon juice and macerate for 1 hour. Then spread the mixture out evenly in a roasting dish and add the Cinnamon sticks and Star Anise. Bake in the oven for 20 minutes at 180oC. Allow to cool completely and then remove the Cinnamon stick and Star Anise.
Gently whip the cream to form soft peaks and set to one side.
To assemble the Pavlova, take the meringue base and fill the well on top of the meringue with the whipped cream. Carefully place the plums across the top of the cream and if you wish scatter with flakes almonds for an extra touch!