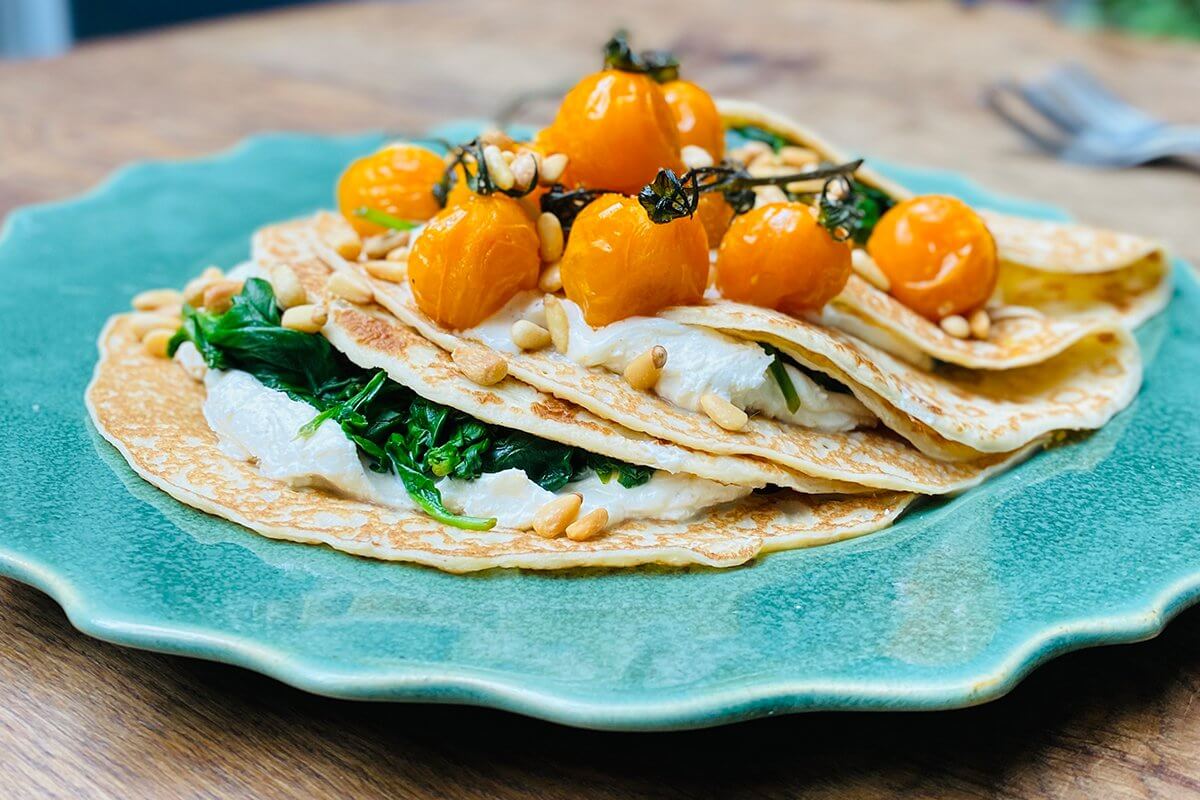 Pancake Toppers
Everyone loves a Pancake and with Pancake Day approaching, try our new Pancake Toppers. We've a lovely savoury version with Spinach, Ricotta and Lemon – or go Tropical with Caramelised Pineapple and a Blueberry  Maple Syrup compote – or go all out and give our Chocolate Miso Sauce a go.
We're leaving you to make your pancake base, then once you've tossed and piled them high, try these toppers. Happy Pancake Day.
Ricotta, Lemon and Spinach with Roasted Cherry Tomatoes 
Serves 4
250g ricotta 
zest of 1 lemon 
pinch Nutmeg 
250g fresh spinach 
200g Cherry Tomatoes
Olive Oil 
20g Pine nuts 
Salt and Pepper 
4 x 20cm pancakes 
Toast the pine nuts in a dry clean frying pan for a few minutes on a medium heat. Set aside to cool. 
Roast cherry toms in the oven for 15mins on a high heat having sprinkled them with olive oil and salt. 
Whilst they roast add the zest and nutmeg to the ricotta and season with salt and pepper, then set aside 
Steam the spinach for 3 minutes.
Squeeze out excess water  from the spinach and season with salt and pepper. 
Spread a ¼ of the ricotta over one pancake 
Cover with spinach and fold in half 
Repeat and layer  
Garnish with the cherry tomatoes and pine nuts 
Serve hot/warm.
Chocolate Miso Sauce and Roasted Hazelnuts 
Serves 4
150g double cream 
100g chocolate (half dark / half milk) 
10g miso paste 
15g golden caster sugar 
50g Hazelnuts 
4 x 20cm pancakes
Toast the hazelnuts in the oven for 10mins at 160oC - remove, cool and chop
Break the chocolate into small pieces and place in a bowl with the miso 
Heat the cream to almost boiling point 
Serve warm over pancakes 
Top with the hazelnut 
*The sauce will keep in the fridge for two weeks in a covered pot.
Caramelised Pineapple and Blueberry Maple Sauce 
Serves 4
300g fresh pineapple peel and sliced 
20g demerara sugar 
30g butter 
200g blue berries 
1 tbsp Maple syrup 
Creme fraiche 
4 x 20cm pancakes 
Sprinkle the pineapple with the sugar. 
Melt the butter in a large heavy frying pan and add the pineapple. 
Cook the pineapple until golden and edges starting to brown.  
Whilst the pineapple cooks make the blueberry sauce
Place the blue berries in a small pan with a tablespoon of water 
Heat and continue to cook gently until they break down. 
Remove from the heat and add the maple syrup - taste and adjust 
Allow to cool a little. 
When the pineapple is ready remove from heat. 
Drizzle the buttery sweet juices on the pancakes 
Place the warm pineapple on top and fold in half. 
Serve with a spoon of blueberry sauce and a dollop of creme fraiche