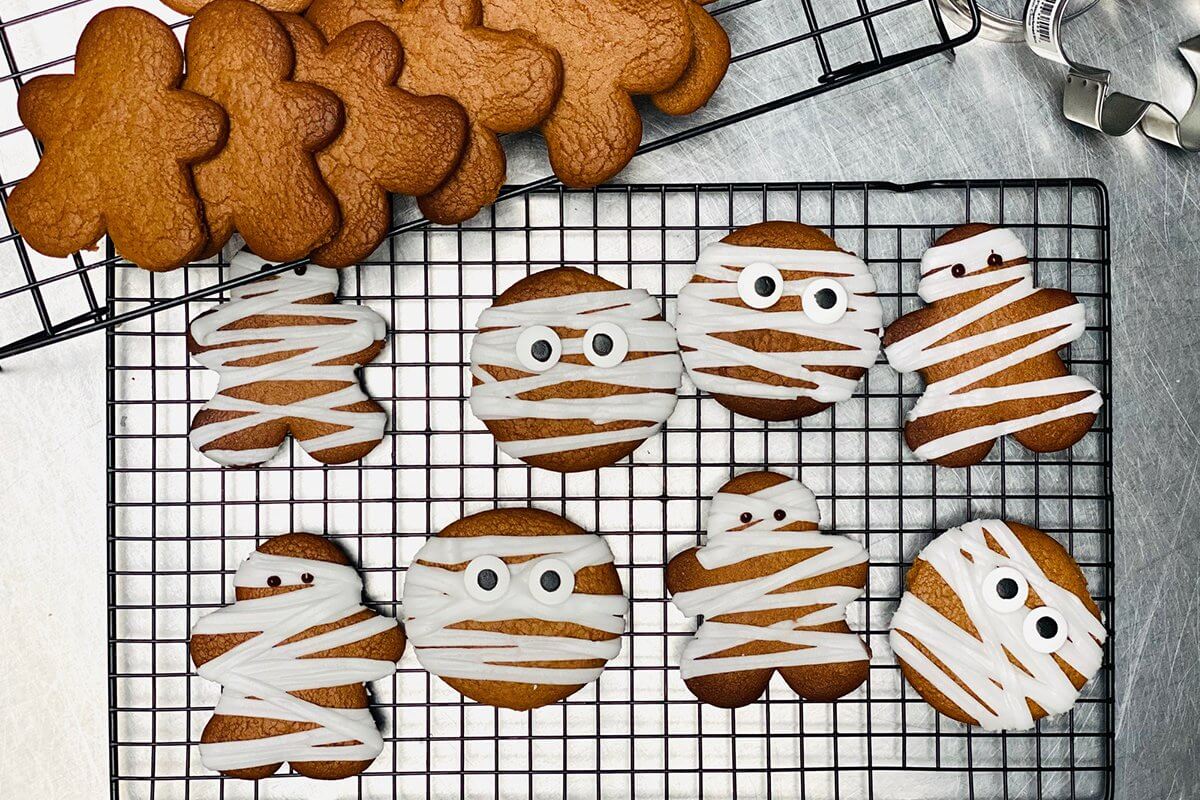 Mad Mummified Cookies
Impress the kids with these simple to make (but very tasty) Gingerbread style cookies. You can choose to either use a simple Gingerbread Man cutter or a simple round shape to create your own mummified designs.
Makes 16 cookies 
85g dark muscovado sugar 
30g golden granulated sugar
30g treacle (or honey  - the cookies will be lighter in colour) 
2 tbsp of water 
100g butter - unsalted 
1/2 tsp salt 
zest of a small orange 
1tsp ginger 
1tsp cinnamon 
1/2 tsp bicarb of soda 
225g plain flour - sifted 
To decorate 
250g Icing sugar 
2 egg whites 
1 tsp lemon juice 
dark chocolate - melted 
Set the oven to 170oC (fan) 
Heat the first nine ingredients listed above in pan under a gentle heat to melt. Avoid boiling. 
Remove from the heat.
Stir in the bicarbonate of soda.
The mixture will fizz a little. 
Rest for a minute. 
Then use a wooden spoon to mix in the flour. 
The mixture will be soft. 
Shape into a flat ball.
Wrap in greaseproof paper and leave to rest in the fridge for an hour to set a little. 
Roll out using the grease proof as a base to approx 2mm thick (same as a £1 coin). 
Using 8cm/10cm cutters (round or gingerbread men), cut out as many shapes as possible.
Place on a non-stick baking sheet and bake for 10 minutes
Leave to cool
Whilst the cookies are cooling mix the icing sugar and egg whites together. 
Add the lemon juice 
The mixture should be the consistency of toothpaste 
Pipe over back and forth using a wide flat nozzle 
Decorate with eyes using melted chocolate or shop bought decorations. 
Happy Halloween!