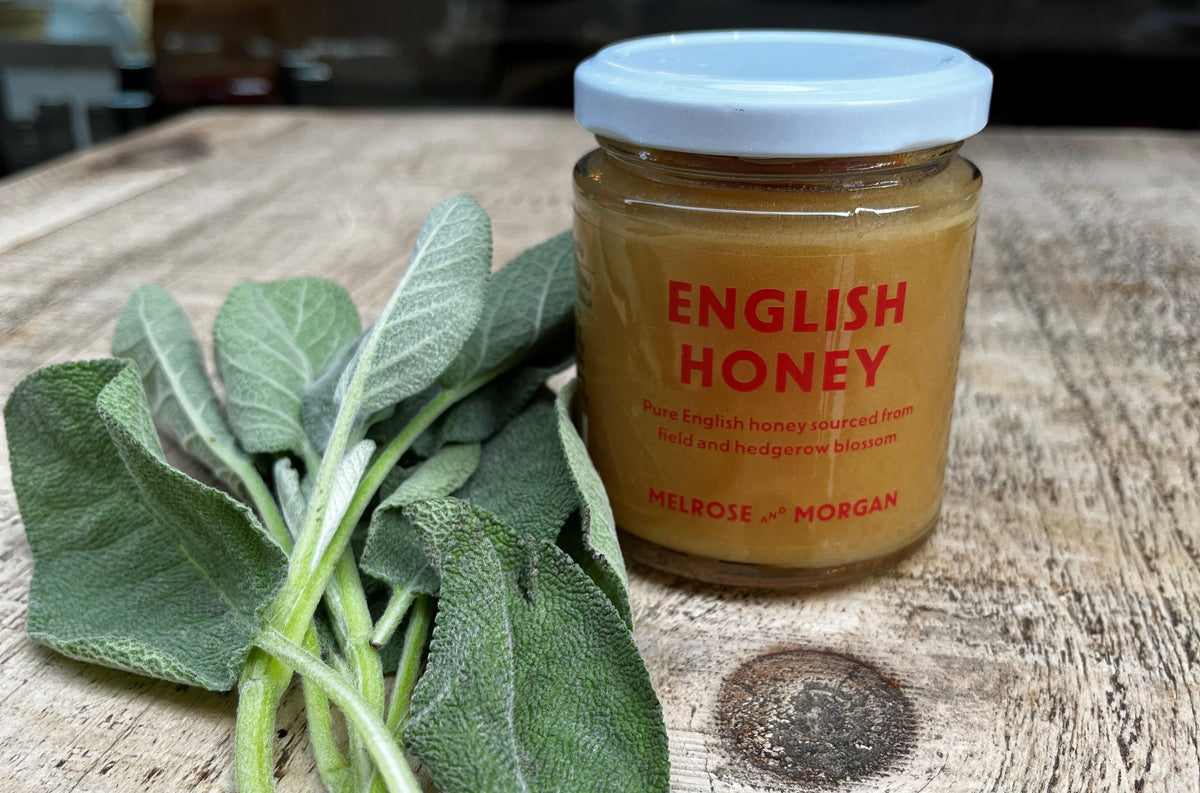 Herb-infused Honey
The flavour of herbs can also be wonderfully preserved in honey. A natural healer, honey marries really well with many herbs, creating delicate flavours to use in your cooking.
With the added benefit of the herb ramping up the honey's healing properties, sage honey is brilliant for easing a sore throat or cough, while lavender honey helps relaxation and promotes sleep, for example.
Incredibly versatile, we like to use herb honeys to add another dimension to simple buttered toast, to sweeten a tea or tisane, to add to baking and bread making, to create killer cocktails, as an interesting addition to a cheese board and to marinate or baste meat and sausages, to name a few.
Making Infused Honey
Use dried or fresh herbs that you have blanched for a few seconds to kill bacteria and enzymes (honey won't support the growth of bacteria, but anything you add might). Keeping herbs whole will stop the flavour penetrating as quickly, but make it easier to strain them out once infused. Use a lightly flavoured honey to allow the herb to shine through (local, raw honeys retain the most flavour and nutrients, while also supporting local bees). Be sparing with strong flavoured herbs, such as lavender, sage and rosemary; be more generous with delicate flavours.
We like to use single herb varieties to create honeys with a clear flavour, but experiment with herbs that you like to use together in other cooking to find flavour combinations that you really love.
Step 1: Use sterilised Kilner or other jars (see page 408) with tight-fitting lids (a wide neck is preferable so you can fill it easily with your ingredients).
Step 2: Place the herbs in the jar, then fill three-quarters full with the honey.
Step 3: Stir the honey and herbs, then fill the last quarter of the jar with the rest of the honey, ensuring the herbs are completely covered.
Step 4: Leave in a cool, dark place for at least five days to allow flavours to infuse.
Step 5: Taste the honey and check if the flavour has developed enough. If not, leave for another few days.
Step 6: Once you're happy with the flavour, fish out the herbs, or strain out with a fine sieve or muslin (warm honey will be much easier to strain than cold).
Step 7: Make sure you label your jars with the herb and date of infusion.
Herb-infused honey will last in your store cupboard for at least a year!