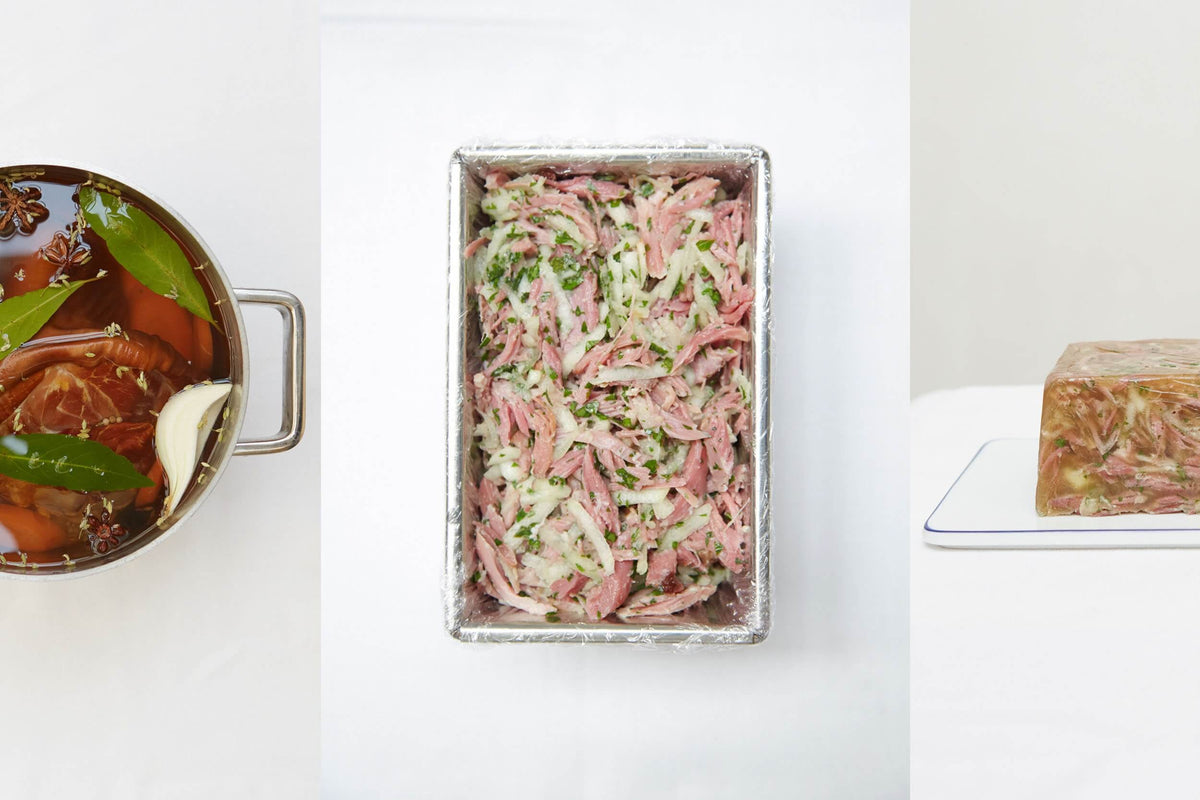 Ham Hock, Pear and Parsley Terrine
Our classic Ham Hock Terrine – one of our favourites and great as part of a buffet. It's most successful when the hock is cooked long and slow, to break down the meat and release the flavour.
Ingredients (makes 750g):
1 unsmoked ham hock (about 1kg)
1 carrot
1 onion
6 garlic cloves
500ml dry cider
1 pig's trotter, cut in half length-ways (get your butcher to do this)
4 star anise
1 dried chilli
1 tbsp white peppercorns
1 tbsp fennel seeds
3 bay leaves
1 Conference pear
1 tbsp chopped parsley leaves
Preparation
Rinse the hock and soak it in clean water overnight.
Peel and roughly chop the carrot and onion.
Crush the garlic cloves.
Method
Remove the hock from the soaking water and rinse it under fresh water.
In a large saucepan, cover the hock with the cider and fresh water and bring slowly to the boil, then add the trotter, carrot, onion, garlic, spices and bay.
Bring to the boil and simmer for four hours until the meat falls away from the bone. Remove from the heat and allow to cool in the poaching liquor.
Discard the trotter (it will have released its gelatine into the poaching liquid). Strain the liquid through a sieve, then heat and boil to reduce by one-third.
Shred the ham hock meat, discarding all the fat.
Peel and grate the pear and mix with the shredded meat and the parsley.
Place the meat into a lined terrine, cover with the reduced poaching liquid and allow to chill and set in the fridge overnight.
This will keep for five days in the fridge. Serve with Pear piccalilli.