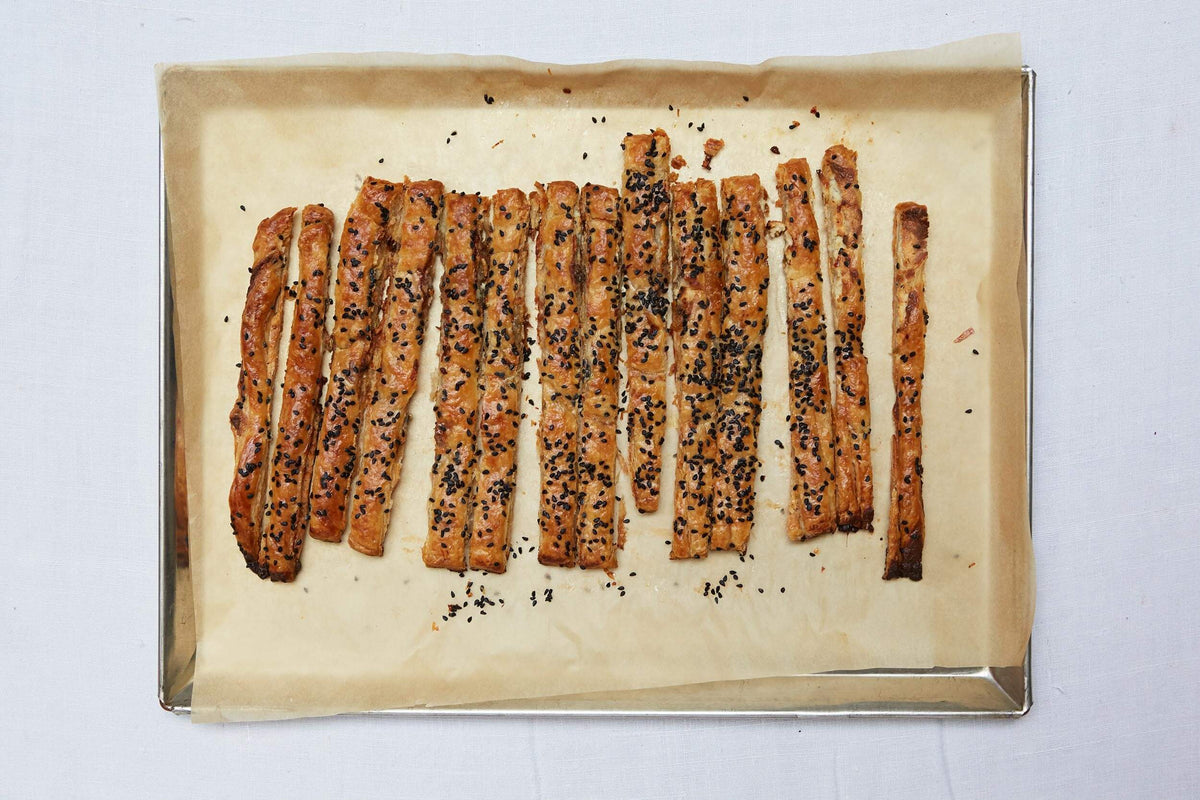 Goat's cheese straws with anchovy and fennel
Everyone loves a cheese straw – and they are the perfect party food. We love to serve them at drinks parties as they can easily be pulled out for last minute festive gatherings. Just take them to the egg wash and sesame seed stage and freeze till needed. Defrost then follow the method for baking. This version gives a slightly more grown up take on the classic with tangy goat's cheese, salty anchovies, with the addition of aromatic fennel seeds and a hit of heat from dried chilli.
A roll of shop bought puff pastry
A small round of soft goat's cheese 
5/6 anchovies
1/4 tsp chilli flakes 
1/2 tsp fennel seeds 
1/2 tsp poppy seeds
1/2 sesame seeds
Method
Preheat the oven to 180°C/350°F/gas mark 4.
Take a block of shop-bought puff pastry and roll it out into a 2 mm-thick rectangle. Lay on to a sheet of baking parchment and chill for 30 minutes to make it easier to handle.
Spread thinly with a soft tangy goat's cheese, scatter with drained and chopped anchovies and add a sprinkling of chilli flakes and crushed fennel seeds.
Fold over in half and press down, using a rolling pin. 
Brush lightly with beaten egg and chill for 30 minutes.
Cut into 1 cm-thin strips; sprinkle with poppy and sesame seeds.
Place on a baking tray lined with baking parchment and bake in the hot oven for 20 minutes until golden brown, turning a few times to ensure they dry out and are crisp and flaky.
Serve as a pre-supper snack with drinks.