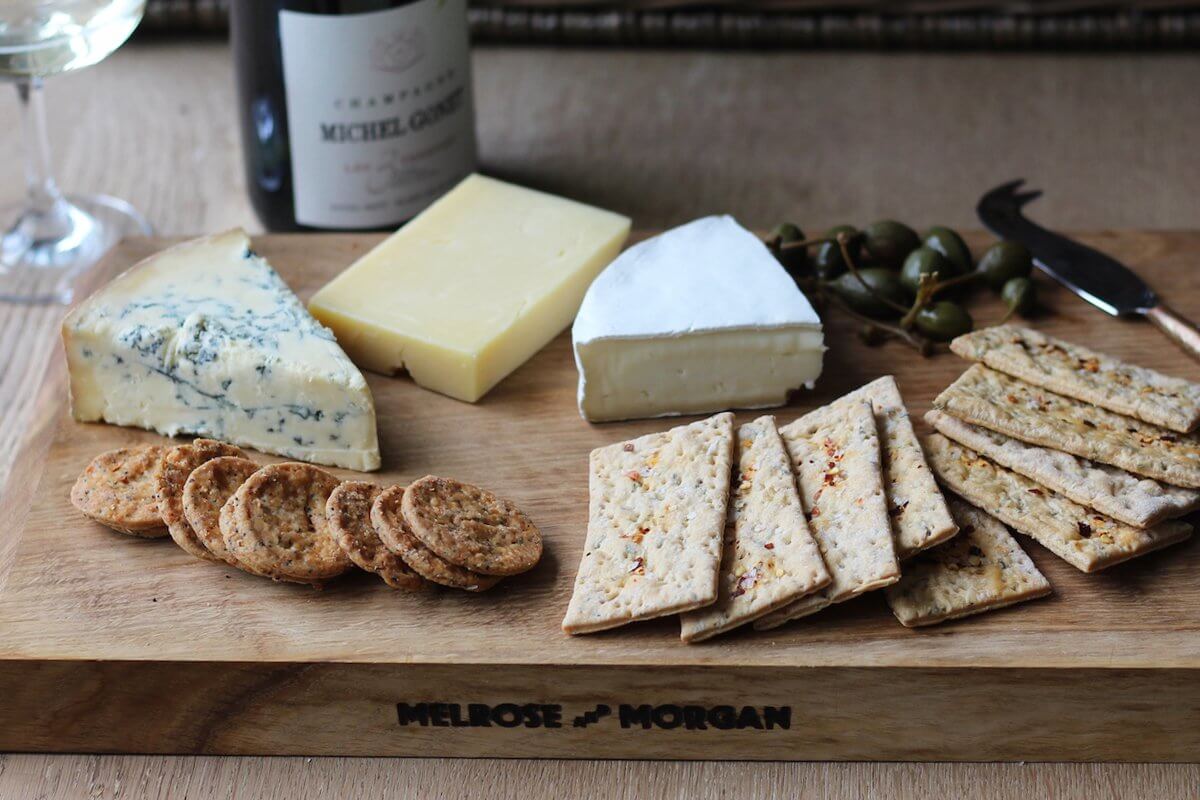 At Christmas creating a cheeseboard throws up all sorts of possibilities. Our advice is to go for a limited selection of best-quality artisan cheeses. Your dining room table doesn't need to resemble your local cheesemonger or supermarket, in terms of range and number of cheeses you offer your family or guests!
And cheese is not cheap! If you're buying an artisan style cheese, the chances are it's been lovingly laboured over, crafted and cared for over a number of weeks, if not months and so comes with a relevant price tag. 
For some a single piece of cheese is all you need to complete a meal - make it big enough to satisfy all at the table, choose the best you can afford and you won't be disappointed. If we had to recommend a single cheese to serve at Christmas, we'd go for the classic blue Stilton from Colston Bassett Dairy. Rich, creamy, full of flavour with a nice tang to it. It's also a thing of beauty to look at. 
Or if we were to look a little further afield then a very seasonal Vacherin hits the spot too. This cow's milk cheese can come from either Switzerland - Mont d'Or or France - du Haut-Doubs. For some it reminds of the cold slopes of the Alps, where it's enjoyed by being baked in an oven in its shell of spruce wood and eaten like fondue.
Alternatively, a cheese selection - we're saying a choice of three is plenty (although we'll permit 4 at Christmas) - with something to appeal to all. We recommend 1) A Hard Cow's 2) A Soft possibly Goat or Sheep and 3) And as it's winter - A Rich Velvety Blue. We tend to turn to cheeses from the British Isles at first, as its those that we are most familiar with, though of course we've acquired some continental favourites along the way. 
For a 'Hard Cow' choice, you have to really go for a classic Cheddar, that's going to appeal to all - young and old. Keen's, Montgomery or Westcombe all have their own individual merits, but this year we think the Keen's family is producing an excellent quality cheese. 
For a 'Soft' a particular favourite includes Tunworth - a Camembert style cheese made in Hampshire, with rich, truffley and garlicky flavours -  that suits the Christmas season well. For something a bit lighter and fresher try a Wigmore or Ragstone. 
For 'Blue' it has to be a traditional Stilton - see above  - enough said!
And then if you're going the whole hog, something from the Continent - we'd recommend a Brillat Savarin - a perfect partner to a glass of crisp Champagne - this triple cream cheese is lightly covered with a bloomy rind. We prefer it a little more mature, when the texture becomes more dense and earthier in flavour.
On the subject of biscuits to serve alongside, our particular favourite is a simple oatcake. Let the cheese speak for itself! 
In terms of accompaniments, a cleansing piece of fruit ticks lots of boxes for us too. Ripe pear with a Stilton, crisp, sweet apple with a cheddar or some sweet Medjool dates work wonders with a soft goat's cheese. We're not adverse to a chutney either, but again, don't let it overpower the flavour of the cheese.
Finally a drink to serve alongside; once again as it is Christmas we'll allow ourselves to indulge a little. Particular favourites include a Quince Liqueur, or Somerset Cider Brandy. For the more daring it's suggested a dry Vermouth goes particularly well with goat's cheese. And not to forget, don't assume that only red wine should be shared with cheese - a good white works a treat too. There's plenty of help online in choosing a wine to suit the cheese you've chosen.
It goes without saying that we can happily and easily help you out with your cheese choices this Christmas. Our shops have a specially selected range that we've worked together on selecting with our friends and supplier at La Fromagerie. Pop into the shops and take a look at what we have on offer. Or alternatively we've made some choices for you - take a look at our Festive Cheese Selection
---
← Older Post Newer Post →