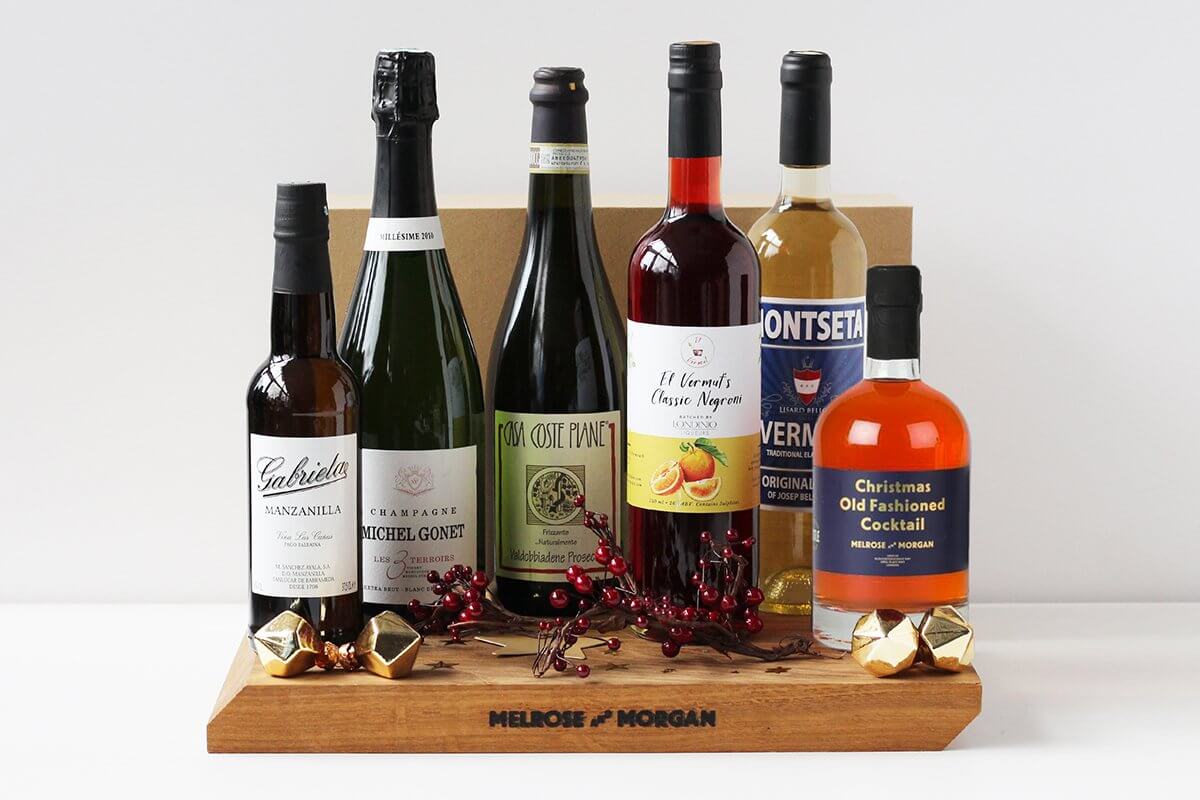 The Turkey or goose is in the oven, the veg is prepared, the pudding is happily steaming away - time to pour yourself (and the guests/family) a drink! After all that hard work in the kitchen, you're probably in need of a little 'lift' - a sherry can work wonders (think dry, crisp and served on ice, rather than rich and sweet) and our Mazanilla Gabriella hits all the right notes. But as it is Christmas I'd pop a cork and open a bottle of cold fizzy. Yes, a crisp, cold, dry Champagne would do nicely, thank you and nothing beats our house Champagne from Michel Gonet, as would a good bottle of Prosecco and I mean 'good'. Our Prosecco Frizzante from Cantina Bernardi works a treat. Great to drink on its own, or with some little pre-lunch nibbles. (Smoked Salmon Blini's, Chicken Liver Parfait on mini toasts, Parmesan and Poppy Seed Biscuits).
No doubt a little later than planned and not too much Sparkling drunk, lunch is ready to be served. (We're not fans of a starter on Christmas Day - think of the food that's still to come.) Let's assume you're having the traditional turkey or goose. Here's two options at varying price points; at the lower end of the scale I'd recommend Cairanne Cotes du Villages, Domaine de Chapoton; from the southern Rhone, this blend of Syrah and Grenache has a generous aroma and is powerful and fruity with hints of liquorice and black pepper. At the upper end of the scale, you could go for La Case 2018 Collecapretta, with aromas and flavours of cherries, violets, ripe with leather, roots and earth, this central Italian Sangiovese biodynamic wine compliments all those meaty Christmas flavours on your plate. 
Or, if you prefer a white to accompany this once a year meal, then something full-bodied and flavoursome is needed to compliment those festive flavours. I'd suggest something from the Burgundy region and a bottle of Bourgogne Aligote, Domaine Goisot, does the trick. This biodynamic wine has lots of the classic Burgundy attributes and is 'big' enough to pair with turkey or goose. 
Dependent on what's next on the menu, let's assume some of you will be enjoying Christmas Pudding, then a 'sticky' or sweet/dessert wine, should round everything off nicely or if you're looking for some thing a little more unusual why not try a Marmalade Gin Liqueur? This deep, dark and warming blend of bitter orange, molasses sugar and Christmas spices, can only add to the enjoyment and send you into a comfortable, hazy stupor in front of the afternoon log fire. Merry Christmas!
---
← Older Post Newer Post →