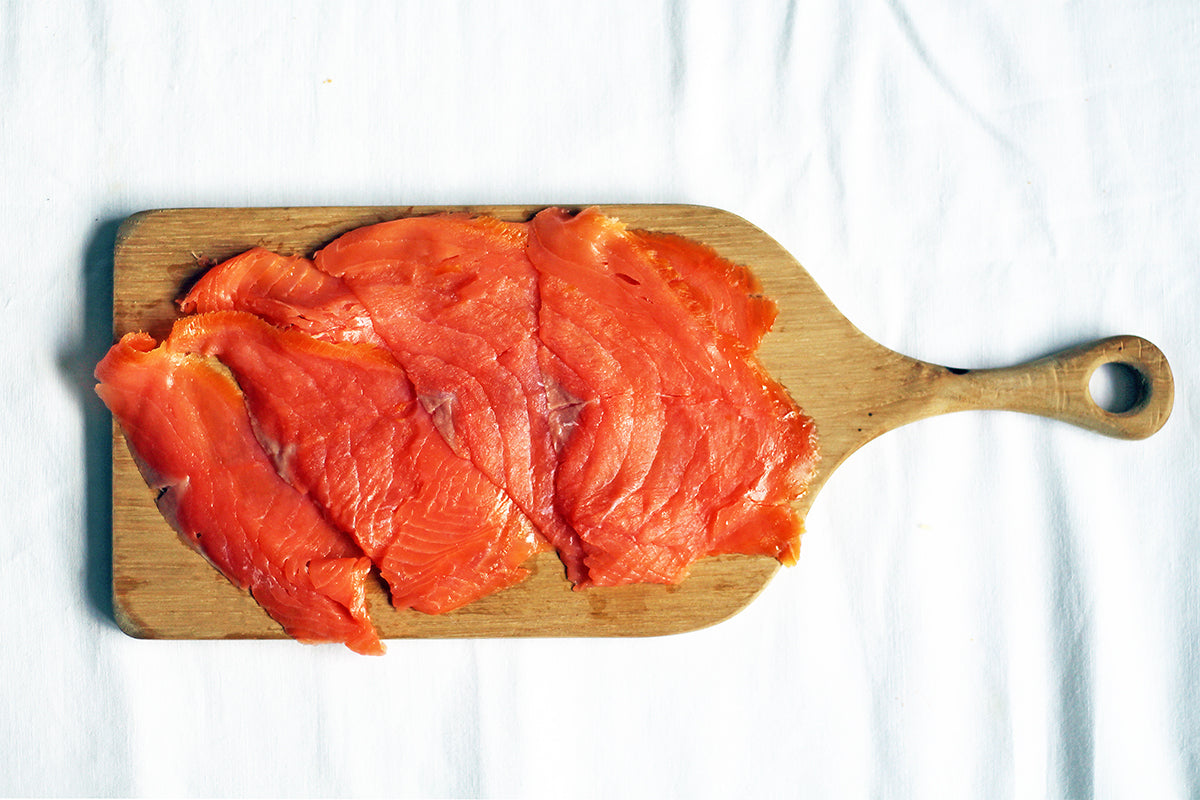 What's tastier than the simplicity of a plate of perfectly smoked salmon? For Max Bergius, the man behind the Secret Smokehouse and who we've been working with for the last 5 years, simplicity is key. Great ingredients, sourced well and played around with as little as possible. Max's 'Secret' ingredients are passion and love.
Originally hailing from the West Coast of Scotland, Max's love of smoked fish began early with visits to his local Smokery, where they smoked Kippers and Haddock. Roll on a number of years and after becoming a bit bored of his London life, Max was needing a new challenge and began playing around with smoking fish at home. Living in Stepney at the time, very close to London's wholesale Fish Market, Billingsgate, he noticed that they ran courses on Fishmongering and embarked on a course. Having learnt the basics, he went on to build his own little smokehouse in a shed in the back garden, using his newly found skills and the traditional crafts of London smoking. London's east end has always been the home of smoked fish and Stepney was the centre of that trade for many decades. 
Max started selling his London Cure Smoked Salmon to his friends and one by one his customers increased, as word got out how special it was. Soon customers came knocking on his door and before long he was supplying to some of London's finest restaurants - Claude Bosi at Bibendum, Clare Smyth at Core, Wiltons, The Fat Duck Group and Jeremy Lee at Quo Vadis. We can't quite remember where we first tasted it, but it was clear that it was the best smoked salmon we'd ever tried and our Melrose and Morgan customers needed to try it too! 
Max has moved on to a railway arch, just off London Fields now, where he can keep up with the demand he's created. However, his methods and sourcing have not changed, nor has the love and passion he has.
He selects only the very best sustainably sourced, high welfare RSPCA Scottish salmon that come from incredibly passionate producers who have been awarded PGI status for their quality. The fish are lean and reared in the cold fresh coastal waters off the West Coast of Scotland with strong tidal flow that encourages them to keep swimming in the current - not only resulting in firmer flesh, but also keeping them fit and healthy.
Each fish is then carefully hand filleted, one by one. The art and skill of filleting is simply magical to witness. No machines are used, with maximum yield from each stroke. Each fillet is then Dry Cured with salt, again by hand, with no sugars or nitrates added. It's then into the smoker where oak sawdust is used to produce a light and delicate smoke that never overpowers the natural flavour of the fish. It's the smoke that preserves the salmon, as no heat is applied.  
If you haven't tried some, we urge you to do so! This is hand crafted food at its very best, using traditional methods and great quality ingredients. Follow Max's mantra and keep it simple, smoked salmon is best enjoyed unadulterated - a squeeze of lemon, some freshly ground black pepper.  (You could also serve with a simple but delicious slice of soda bread click here for our recipe)
You can now order Max's Smoked Salmon online - click here. 
If you liked to try something a little more complicated, we've created a recipe using another of Secret Smokehouse's great products - Hot Smoked Salmon. Click here for the recipe.
---
← Older Post Newer Post →