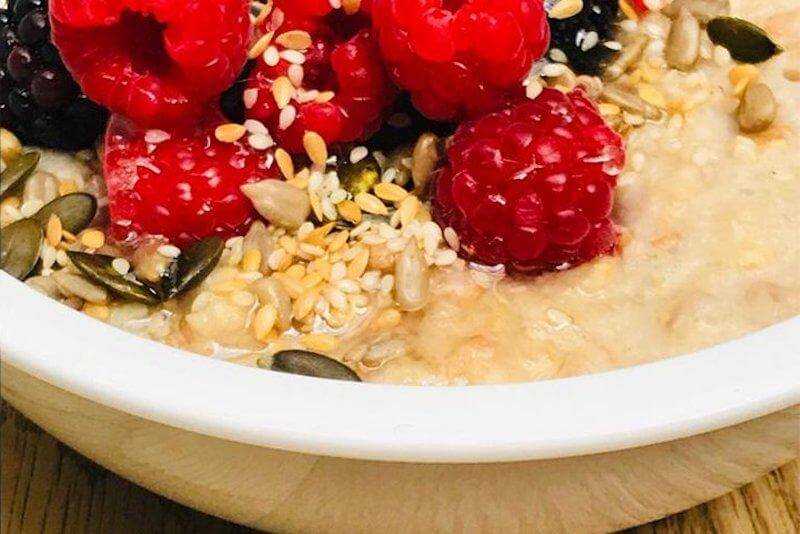 Summer Porridge Bowl
Nick shares his latest weekend brunch recipe: a  summer porridge bowl made with spelt, buckwheat and summer toppings.
There are weeks in middle winter that porridge is a daily morning fuel to get us out the door and to work feeling replete. We think there is something soothing and satisfying about good quality oats cooked slowly on the hob. This is where I think remarrying oats with Oat Milk is a natural relationship that calls for us to bring them back together in the pan. Oats cooked slowly in twice the volume of milk and a pinch of salt is one on the simple pleasures of any morning ritual I know.
Summer months require some adjustments however. I find myself replacing some the oats with some alternative flakes such as Quinoa, Buckwheat or Spelt as they all bring a lightness but the oats still hold their firmness.  I have been known to use dark Muscovado sugar as a sweetener which is a real treat on bleak Winters morning but now in the Spring a light honey or maple syrup make for good wholesome alternatives to sugar. Agave Nectar is also up there in the cupboard but lacks flavour for my morning bowl.
I'm always up for pimping my bowl of porridge, my nephew is always extolling the virtues of peanut butter but I find it cloying – sorry Jonathan. I have shared a porridge base below and then a few toppings you can use, including a savoury option, as a brunch bowl.
These topping are from our book Good Food For Your Table page 210 – 211.
Take your pick – go create.
Spelt and Buckwheat Porridge Base
 Feeds 4
 50g Oats
50g Buckwheat Flake
50g Spelt Flake  
350 ml Oat Milk (or milk of your choice)
pinch sea salt Sea salt
pinch of cinnamon
Bring everything to the boil on the hob and cook until thickened. Add more milk if required. We suggest the following toppings.
Sliced White Peaches, Blue Berries and Live Yoghurt
Banana Fried in coconut oil, with toasted Coconut Flakes and a splash of coconut milk
Honey Poached Fresh Apricots and crush pistachios
Crispy Smoked Bacon and Maple Syrup
Summer Berries, toasted seeds and Wildflower Honey (see photo)