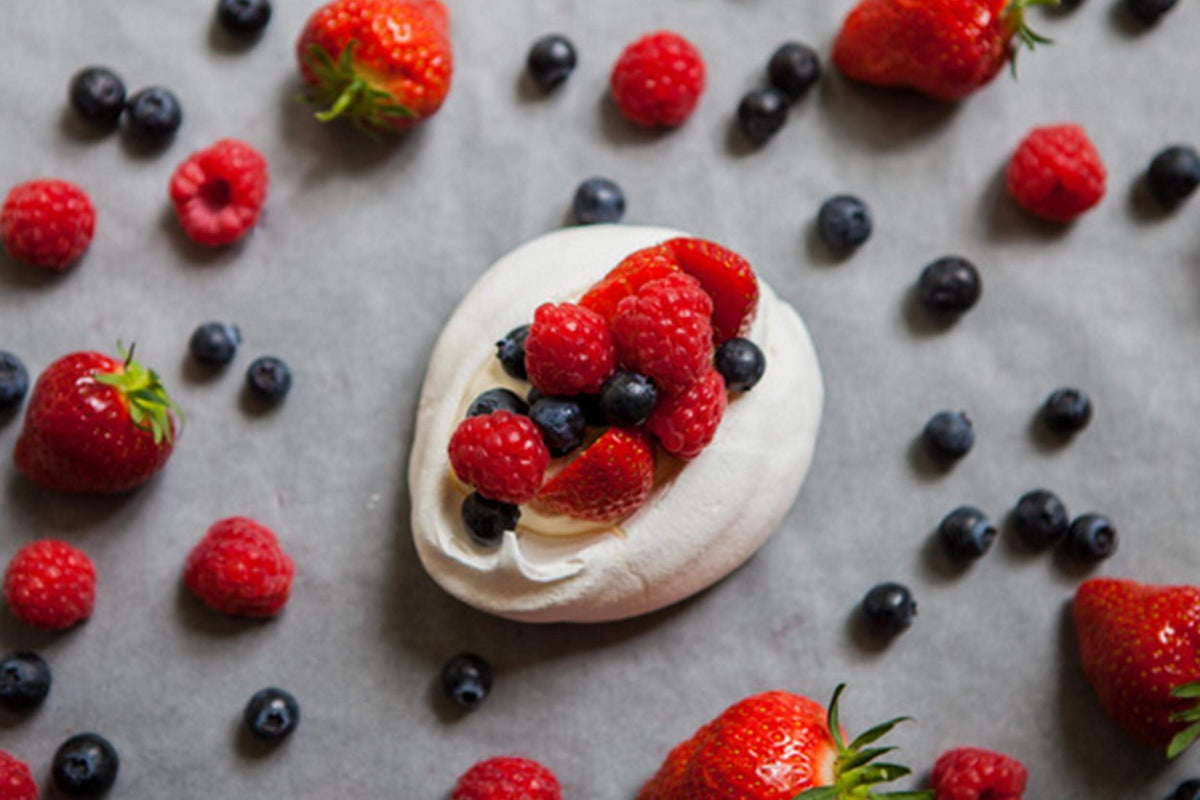 Summer berry pavlova
Pillows of crisp sugar clouds, softly whipped cream scented with elderflowers and fresh berries from the garden piled high and drenched in icing sugar – what's not to like about this summery delight. Scrupulously clean equipment is a must here, as even the tiniest bit of grease will stop the egg whites from whipping. We often run a slice of lemon over bowls and whisks to make sure that everything is totally sparkling. The secret ingredients here are the tiny amount of cornflour and white wine vinegar – they produce a chemical reaction in the egg whites – so don't be tempted to leave them out if you want a lovely marshmallow centre to your crisp meringues.
Serves 6
150g (6) egg whites 
300g caster sugar
16g cornflour
½ tbsp white wine vinegar 
½ tsp vanilla extract 
¼ tsp salt
300g double cream 
1 tbsp elderfower cordial 
2 large punnets summer berries (e.g. raspberries, strawberries, blackberries)
1 sprig of mint
Icing sugar to dust
Electric mixer 
Baking tray 30cm x 40cm 
Baking parchment 
Large kitchen spoon
Method:
Wash and pick over fruit. 
Scale sugar.
Method
Pre heat oven to 150oC.
Line tray with baking parchment.
Whisk egg whites until frothy, then add the salt.
Slowly add sugar a tablespoon at a time at 30 second intervals. It's important that you give the time for the sugar to dissolve into the whites.
When the mixture forms stiff peaks and is glossy, gently fold in the cornflour, vanilla extract and vinegar.
Spoon the mixture onto the parchment into 10cm quenelle's.
Then using the back of a large serving spoon create a well in the middle that you will fill with fruit and cream after baking.
Bake at 150oC for 12mins, then lower the temperature to 125oC for 20mins, then further to 100oC for a further hour. 
Remove and cool.
Whip the double cream to soft peaks and then add the elderflower cordial. If you over beat your cream it can stiffen and seize – don't panic if so, add a slash more cream to loosen and whip again – gently.
Pipe cream into cavities of the pavlovas then pile the washed berries on top and decorate with sprigs of mint.
Dust with lots of icing sugar.