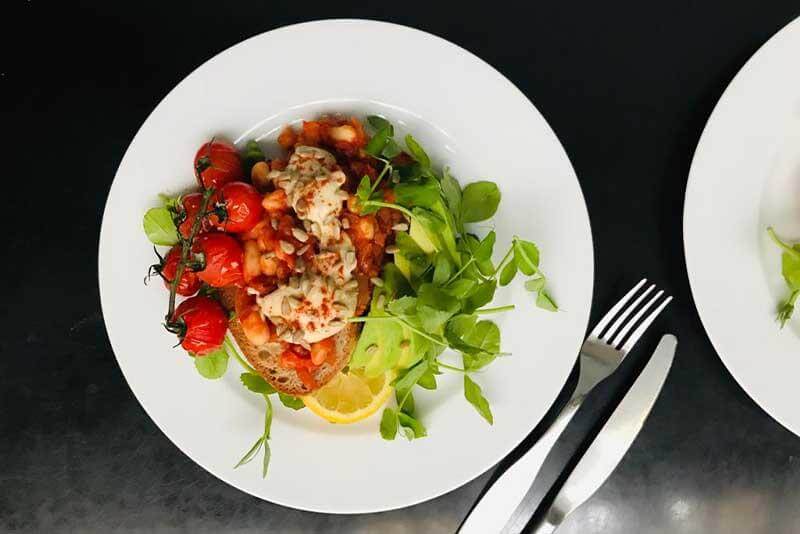 Smoky Beans on Toast
There is a lot to be said for simple homemade beans on toast. This weekend we are sharing the recipe our customers have come to love in our cafes.
Sometimes Sunday morning requires a meat-free brunch. However the plate still needs to sustain and nourish. Baked Bean must be my all-time favourite tinned food and you can always find a can sitting in the middle of my larder. Homemade beans go to the next level and never disappoint and it is no wonder they are a firm favourite in our cafes. I made these the night before. Don't bother with dry beans there are plenty of good quality tinned white beans. Any soft white bean will do: butterbean, cannellini, white kidney beans or even a pinto. Mix them up if you like. I have kept the spice quite low in this recipe and omitted garlic to suit my needs for a brunch bean.  I serve it with a few slices of avocado and tahini and a dash of lemon to increase the protein on the plate and give balance to the well-seasoned beans. Find the best bread you can as this is the real hero of the dish. With so many great independent bakeries popping up all over the UK try to seek them out if you haven't already.
 Serves two
 240g cooked white beans (drained weight of most 400g cans)
1 tbsp. olive oil
1 onion
pinch sea salt
½ tsp smoked paprika 
pinch of flaked chilli
150g tomato pasatta
1 tsp soy sauce
1 tsp honey / agave
1 Loaf of bread
4 tbsp. spoons of runny tahini sauce
1 Avocado
1 Lemon
 Sunflower seeds
Pea shoots or lamb lettuce
 Roast the cherry tomatoes in the oven for 15mins keeping them on the vine. Sprinkle with oil and salt before they go in.
As they roast make the beans.
Peel and chop the onion
Sweat on the oil till soft
Add the Smoked Paprika and a pinch of chilli flakes
Add the pasatta and continue to cook for 5 mins
Add the soy and honey
Last of all add the beans and continue to cook for 5 more mins.
Season with salt and pepper and remove from heat.  Check for seasoning.
Toast and butter the bread.
Pile on the warm beans
Place some a few slices of avocado alongside
Pop the roast tomatoes on top.
Drizzle with the tahini
Garnish with the leaves and sprinkle with sunflower seeds