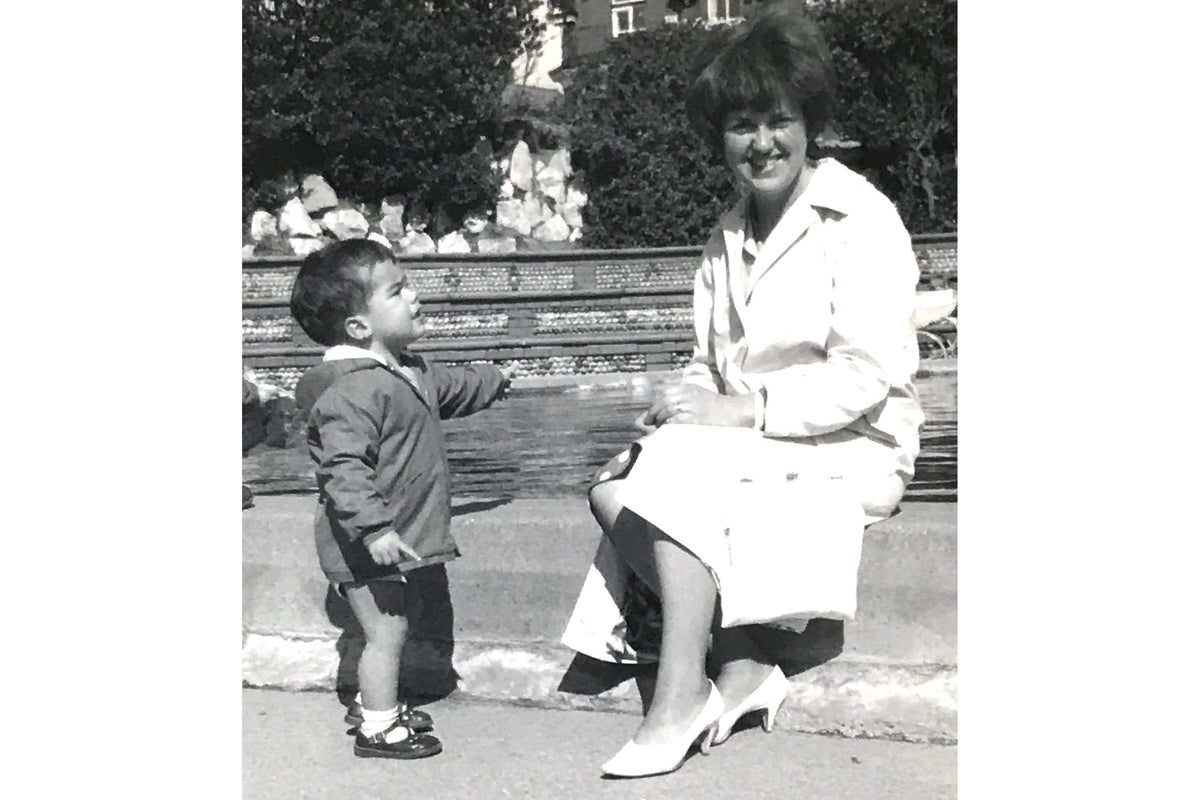 Recipes from childhood
Sheila Melrose and May Morgan both served as a huge inspiration in their son's cooking and love of simple British Food. This month in our journal Nick and Ian share two of their Mum's favourite recipes: Marmalade Glazed Ham and Bara Brith.
Sheila Melrose and May Morgan, the mum's of Melrose and Morgan founders, Nick Selby and Ian James were a huge inspiration in their son's style of cooking and love of good, simple, British Food.
Marmalade Glazed Ham
Marmalade Glazed Ham was a firm favourite in the Melrose / Selby household as there's nothing like slicing a ham to share at a part of a weekend Sunday lunch spread. The secret – as with all boiled meats – is to cook it very slowly. The water should just shudder as it cooks.
Ingredients
For the ham
1 unsmoked gammon joint (about 2 kg)
1 onion, halved
1 carrot, halved
6 Cloves
3 bay leaves
1 tsp white peppercorns
1 tsp fennel seeds
3 strips of orange zest
For the glaze
100 g marmalade, warmed and strained, to remove peel
100 g dark muscovado sugar
½ tsp ground cloves
1 tsp mustard powder
1 tsp sea salt
Equipment
Sauce pans
Sieve
Sharp knife
Roasting dish
Preparation
Rinse the gammon under cold, running water.
Heat the marmalade in a small pan, then pass it through a sieve to remove the peel.
Method
Place the gammon in your largest saucepan and cover with cold water. Add all the other ingredients. Bring to the boil and cook, uncovered, over the lowest heat.
Cook for 30 minutes for every 450 g of original weight, then remove and allow to cool a little.
Before the ham has cooled completely, peel off the outer skin, leaving a layer of fat. Do this slowly, coaxing away the skin with a sharp knife if needs be. Discard the skin and score the fat with the sharp knife in neat criss-crosses about 2 cm apart. Don't cut too deep. Place the ham in a roasting dish lined with foil and preheat the oven to 200°C/400°F/gas mark 6.
Heat all the ingredients for the glaze in a saucepan and pour over the ham. Pop into the oven until you have a deep glaze on the ham with the edges slightly scorching and the fat deep golden. This should take no longer than 15 minutes. Remove and cool.
Bara Brith (A Welsh Tea Loaf)
Ian says "This recipe evokes memories of my childhood as it was a firm favourite in our household. Years later when we opened our shop in Primrose Hill, our friend Debbie, of Welsh ancestry herself, would arrive at 5 pm after the other chefs had left and turn out this 'bread', baked in our unruly gas oven, night after night. Serve buttered with a nice cup of tea.
Makes 1 loaf
Ingredients
Unsalted butter, for the tin
175 g wholemeal flour
100 g plain flour
1¼ tsp baking powder
300 ml hot strong tea (such as lapsang, darjeeling, assam)
120 g currants
120 g sultanas
120 g raisins
175 g demerara sugar
1 unwaxed lemon
1 egg, lightly beaten
2 tsp mixed spice
Equipment
900 g loaf tin
baking parchment
sieve mixing
bowl
tea pot or jug
saucepan
zester
Method
Pour the tea over the fruit and sugar in a saucepan, set over a medium heat and stir until the sugar dissolves. Leave to cool for a few hours. Once cooled, add the lemon zest, working over the pan to catch the lemon's essential oils.
When ready to bake, preheat the oven to 150°C/300°F/gas mark 2.
Add the beaten egg to the fruit mixture, then gently stir in the sifted flour mixture and mixed spice. Don't over-work this mixture or the bread will be chewy. Scrape the mixture into the prepared tin. Bake for 1½ hours in the centre of the oven. Check for readiness with a skewer; it should emerge clean. Cool and serve, or wrap carefully in cling film and store in an airtight container for up to five days.