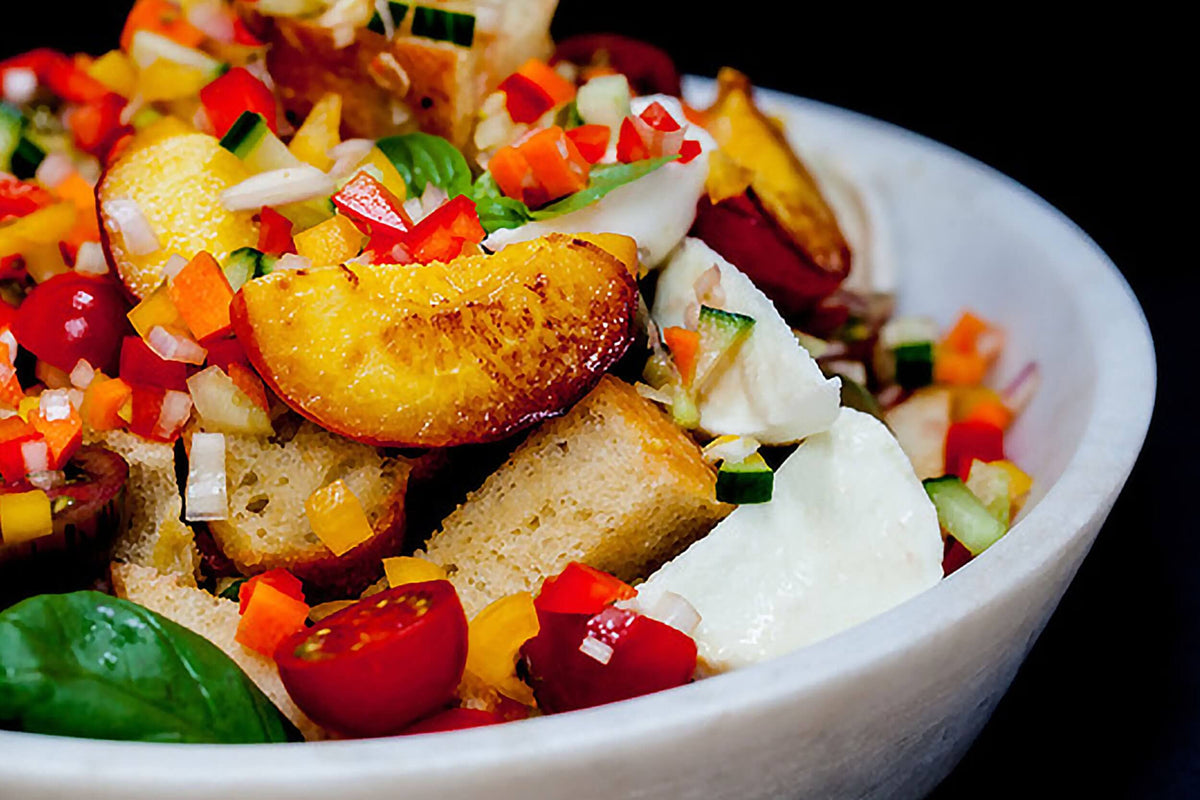 Peach panzanella
This is a great use up for day all bread, making the most of some of the season's most lovely produce; Isle of Wight tomatoes and wonderfully ripe peaches. It's colourful and goes brilliantly with grilled BBQ meats. Make sure you find the best tomatoes and that the peaches are perfectly ripe.
Serves 6
200g day old bread 
3 ripe peaches 
1 mozzarella ball 
½ cucumber 
100g cherry tomatoes 
200g standard vine or heritage tomatoes 
4 sticks of celery 
250g red and yellow peppers 
50g shallots 
1 tsp salted capers (washed) 
1 bunch parsley 
1 bunch basil 
2 tbsp balsamic vinegar 
100 ml olive oil 
2 gloves of garlic 
Salt and pepper
Sharp vegetable knife 
Vegetable peeler 
Chopping board 
Serving bowl
Method:
Cut the bread into bite site chunks – drizzle with a tablespoon of olive oil and toast in a hot oven for about 10 minutes or until golden. Remove and cool.
Wash and dice the cucumber, shallots, celery and peppers as finely as you can.
Half the cherry tomatoes.
Cut the vine tomatoes into chunks.
Mix all the cut vegetables in a bowl and season.
Wash, pick and chop the herbs add to vegetables.
Add the capers and mix through with the toasted bread.
For the dressing peel and blitz the garlic with remaining olive oil and vinegar in a food processor. Dress the vegetables and stir. 
Lastly remove stones from peaches and segment.
Into a non stick frying pan pour a teaspoon of olive oil and heat. Once hot add the segmented peaches and colour on each side. Remove and cool.
Assemble the salad by layering vegetables, bread, and peaches. Tear the mozzarella and place on top and garnish with basil leaves.
This salad is made best a a few hours before serving so as the flavours have to meld together and the bread soaks up all the juices. Always serve at room temperature.