Our Shops
For us, local shops should be at the heart of the community. We love to be surrounded by local bakers, fishmongers, butchers and other independent retailers and we are committed to championing small-scale artisan producers through our shops.
Our stores in Primrose Hill and Hampstead Village have cafés where you can relax over breakfast, lunch or tea and then pick up something quick for supper or the finest ingredients for cooking dinner. Our lunchtime menus are made fresh daily and include delicious sandwiches, salads, hot pots and soups, all at great prices. As well as our freshly cooked range of pies, soups, pastries, cakes and tarts, we offer you everyday supplies such as cheese, milk, artisan bread and fresh juices.
Both shops sell a wide range of the finest products, expertly sourced and lovingly hand-crafted in our North London kitchen. We care about our food and pay particular attention to its preparation. That's why 60% of the food you find in our shops is made by our in-house team of chefs.
We are proud of what we do, and we hope that our years of knowledge and experience help bring the best quality, value and above all flavour, to everything we do.
Come and visit us and see for yourself.
Nick and Ian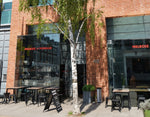 020 7722 0011
Opening hours
OPENING HOURS
8am-7pm (Monday-Sunday)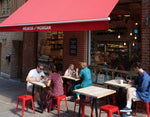 020 7794 6727
Opening hours
OPENING HOURS
8am-7pm (Monday-Sunday)